Fri, 10 December 2021 at 6:29 pm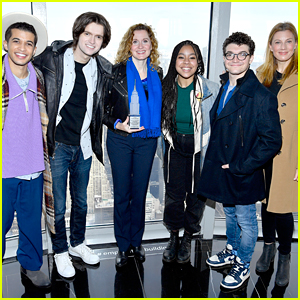 Jordan Fisher makes a visit to the Empire State Building on Friday morning (December 10) in New York City.
The 27-year-old star of Dear Evan Hansen and some of his castmates celebrated the show's re-opening on Broadway, as well as it's five year anniversary.
Jordan was joined by David Jeffery (Connor Murphy), Christiane Noll (Cynthia Murphy), Phoebe Koyabe (Alana Beck), Jared Goldsmith (Jared Kleinman) and Jessica Phillips (Heidi Hansen).
The Empire State Building will light up blue on Saturday (December 11), which is when Dear Evan Hansen has it's first show back on the Great White Way. If you didn't know, it's the final Broadway show to resume performances.
Earlier in the week, Jordan opened up about getting back into the show and performing it again.
See what he said inside…
"When we all came back, I think that there was this… the word dissonance can have a negative connotation, I don't that, and dissonance can be a really beautiful thing musically," he said on Live with Kelly and Ryan. "It's when two notes are very close together and they create an overtone, right, but that two years that we spent separated from the work created an inevitable dissonance as well get back in. We're two years separated from the work, two years older, two years more experienced, whether it be positive or negative things in your life, and how you apply that is entirely up to you and your rehearsal process.
"We, finally, for the first time, not just our show but every show on Broadway, has an opportunity, a very unique opportunity to get together and build the show again, and then put it up in front of people, and it evolves everything," he continued.
When asked if he would be nervous opening night, Jordan responded, "I'll just be excited. Oh, I'm ready."
If you want to see Dear Evan Hansen on Broadway, you can get ticket info at DearEvanHansen.com!
Like Just Jared Jr. on FB