Mon, 07 February 2022 at 3:18 pm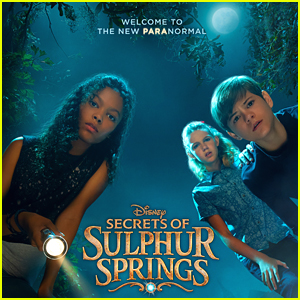 Disney Channel's time travel, mystery Secrets of Sulphur Springs will continue to get to the bottom of more mysteries!
It was just announced on Monday (February 7) that the series has been renewed for a third season on the network.
Sulphur Springs is currently in the middle of it's second season, and continues to be a hit among fans!
Keep reading for more…
In the current season, Griffin, Harper and Savannah discover there are more mysteries to unravel about The Tremont, Harper's deep-seeded roots and connection to the hotel, the origin of the portal and the identity of the Tremont's real ghost.
But after Harper follows the ghost back to the 1930s where she encounters her great grandmother Daisy, great uncle Sam (Ethan Hutchison) and great great grandfather Elijah (Robert Manning Jr.), the portal disappears and she gets stuck in the past. Can she be brought back before she's stuck forever?
In season three, "a new ghost will torment The Tremont. Also, Griffin will travel to the future and then back to his present, where he and Harper will have to change the timelines of their lives in order to save their friendship and their families."
Secrets of Sulphur Springs stars Preston Oliver (Griffin), Kyliegh Curran (Harper), Elle Graham (Savannah), Josh Braaten (Ben), Kelly Frye (Sarah), Landon Gordon (Wyatt), Madeleine McGraw (Zoey) and Diandra Lyle (Jess), as well as Johari Washington, Ethan Hutchison, Eugene Byrd, Kenneisha Thompson and Robert Manning Jr, who joined in season two.
Tune in on Friday nights at 8pm ET/PT on Disney Channel for new episodes. Both season one and season two are also available to stream on Disney+!
Like Just Jared Jr. on FB
Photos: Disney Channel
Posted to:
Diandra Lyle
,
Disney Channel
,
Elle Graham
,
Ethan Hutchison
,
Eugene Byrd
,
Exclusive
,
Johari Washington
,
Josh Braaten
,
Kelly Frye
,
Kenneisha Thompson
,
Kyliegh Curran
,
Landon Gordon
,
Madeleine McGraw
,
Preston Oliver
,
Robert Manning Jr
,
Sulphur Springs
,
Television