Wed, 23 February 2022 at 6:46 pm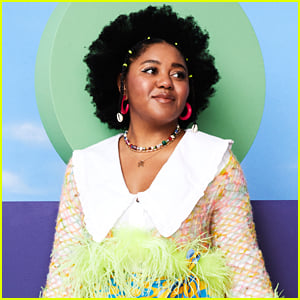 Tall Girl 2 is out now and we are getting to know more about Anjelika Washington!
The actress portrays Fareeda in the new Netflix sequel, Jodi's best friend.
Of her character and her journey in the movie, Anjelika recently told Screen Rant, "I've always played Fareeda as this uber confident girl; that best friend who will pull you up and remind you who you are, and be like, 'Girl, get it together. You are stunning. You are amazing. You're smart, you're whatever.' And for the first time, we see Fareeda doubt herself a little bit, and I think that's just a very interesting moment."
Click inside to read more…
"It reminds me that sometimes – whether it's on social media or in real life – the people that you assume are the most confident people, that would never doubt themselves and are just very sure of themselves, also have that moment where they might be insecure. You just don't know that," she added.
You may also know her from DC's Stargirl on The CW, where she portrays Beth Chapel/Doctor Mid-Nite. If you didn't know, the show will be back for season three.
We just caught up with Anjelika and got to know 10 Fun Facts about her. Check 'em out below!
1. I love food. Food is life.
2. My favorite color is purple but I'll rarely wear it. I love to wear mostly black and neutrals or I wear fun colors like yellow, blue and red. Go big or go home!
3. Before I was acting full time I worked at Starbucks. I did not love it lol but I do love knowing all the secrets about the drinks (did you know that the only caramel in a caramel macchiato is what's drizzled on top? There is no actual caramel syrup in the drink, it's vanilla!)
4. I volunteered at the Children's Hospital LA for 4 years straight before moving to Atlanta to film my series Stargirl. I got to be an event host and I really enjoyed it!
5. I don't have a specific food dish that is my favorite but I can never turn down fries. Fries are my weakness.
6. I have the best group of friends and I truly believe that you are who you surround yourself with, so I try to hang with positive, ambitious, kind and considerate humans only.
7. I have been in 4 Netflix movies so far! Many more to come (:
8. I have a dream to do a play on Broadway, voice an animation character in a movie, host a talk show, and lead a studio feature!
9. The first person I ever followed on Instagram was Zendaya and she only had like 2000 followers at the time- crazy!!!
10. My Mom is actually my best friend and we talk like 5 times a day. She's the best and my friends love her too!
ICYMI: Get to know her co-star Jan Luis Castellanos, and be sure to watch Tall Girl 2 on Netflix!
Like Just Jared Jr. on FB