Fri, 11 February 2022 at 3:10 pm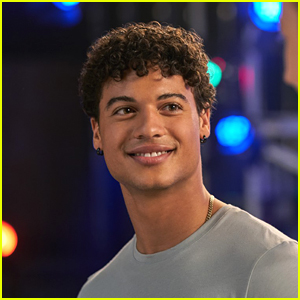 Jan Luis Castellanos is capturing hearts in the just released Tall Girl 2!
The 26-year-old joins the cast of the Netflix sequel as Tommy, who co-stars with Ava Michelle's Jodi in the school play.
Here's a synopsis for the movie: After her inspiring speech at the homecoming dance, Jodi is no longer just the "tall girl" – she's popular, confident, has a boyfriend, and just booked the lead role in this year's school musical. But as the pressure of her newfound popularity intensifies, so do her insecurities, and new relationships are formed while old ones are tested. As the world she built starts to crumble around her, Jodi realizes that standing tall was only just the beginning.
Fans may recognize Jan Luis from past roles on 13 Reasons Why, Runaways, Don't Look Deeper or Bridge and Tunnel.
JJJ recently caught up with Jan Luis Castellanos and learned 10 Fun Facts about him!
Get to know him inside…
1. I'm technically a professional skateboarder… on paper. I booked a skateboarding job and they signed me on as a pro. I love skateboarding, it was something I grew up doing all my life. And still do till this day.
2. Growing up in the Dominican Republic, I was surrounded by photography through family members. Because of this, there's a natural sense of photography in me. Sometimes I'll catch myself taking photos and everything just slows down. It's a hobby I privately enjoy.
3. I grew up playing sports all my life, football, wrestling, track, you name it. I was even a wrestling champion in New Jersey. Nowadays, I can even force myself to watch the Super Bowl. I guess I'd rather play than watch.
4. I can recite all of JERSEY BOYS, it was my favorite play growing up. I could sing it for hours.. not good. But definitely with passion! That's when I would imagine actually performing on a stage, or just performing anything general.
5. I don't like raisins. Boring fact, but it's true.
6. I can eat chocolate anywhere, anytime.
7. I love all cars — so much so that I didn't mind driving 16 hours to go pick up my dog once.
8. I'm a homebody, I don't really like going out. I think a small gathering with my closest friends & family is all I'll ever need.
9. I lost nearly 70lbs pounds prior to the pursuit of my acting journey.
10. I am still with my high school sweetheart.
Check out the Tall Girl 2 trailer right HERE, and be sure to go watch it on Netflix NOW!
Like Just Jared Jr. on FB