Wed, 30 March 2022 at 6:25 pm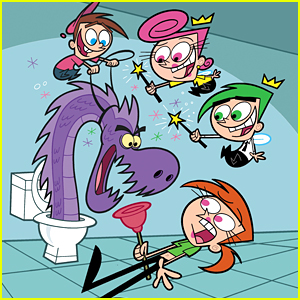 The Fairly OddParents is old enough to legally drink – LOL!
The hit Nickelodeon comedy first premiered on March 30, 2001, marking today it's 21st anniversary.
The animated series followed 10-year-old Timmy Turner, who figures he finally has the upper hand when two fairy godparents, Cosmo and Wanda, appear unexpectedly on the scene. Fairy godparents help kids in need, and these two see Timmy as a client who fits the criteria. They constantly practice their craft on him and delight in playfully punishing his babysitting nemesis, 16-year-old Vicky, who turns mean as a snake the second Timmy's parents leave.
Keep reading for more inside…
Throughout his magical misadventures, and while exploring the big issues of being a kid–growing up, gaining independence, fitting in, being respected and finding the courage to do what's right — Timmy's eyes are opened to a couple of axioms: Be careful for what you wish for; and getting what you want won't necessarily solve all your problems.
The Fairly OddParents was created by Butch Hartman and ran for 10 seasons, consisting of 172 episodes, on Nickelodeon, from 2001 until July 2017.
Throughout it's run on the network, the show was beloved by fans and critics, and had been nominated and won multiple awards, including a 2005 Emmy win for Outstanding Individual Achievement in Animation, and two 2010 Daytime Emmys for Outstanding Sound Mixing and Outstanding Individual in Animation. It was also nominated for several Kids' Choice Awards and many Annie Awards.
The series also had live-action spinoff movies – A Fairly Odd Movie: Grow Up, Timmy Turner!, A Fairly Odd Christmas and A Fairly Odd Summer, all starring Drake Bell as Timmy.
Now, a brand new live action/animated series The Fairly OddParents: Fairly Odder is premiering TOMORROW (March 31) on Paramount+!
All past seasons of the original series, as well as the movies and the new show, are available to stream on Paramount+.
Like Just Jared Jr. on FB