Wed, 15 June 2022 at 1:48 pm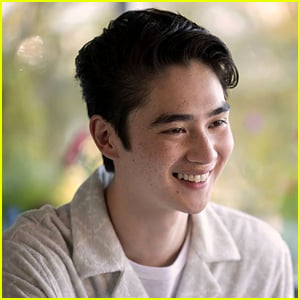 Sean Kaufman takes on his first series regular role in the new Prime Video series The Summer I Turned Pretty!
The actor can be seen in the new show as Steven Conklin, the brother to Lola Tung's Belly.
The Summer I Turned Pretty is of course an adaptation from Jenny Han's book of the same name. She's also a writer, executive producer and co-showrunner on the series.
A coming-of-age story about first love, first heartbreak, and the magic of that one perfect summer, The Summer I Turned Pretty is a multigenerational drama that hinges on a love triangle between one girl (Tung) and two brothers (Gavin Casalegno & Christopher Briney), the ever-evolving relationship between mothers and their children, and the enduring power of strong female friendship. Watch the trailer here!
Ahead of the show's premiere THIS Friday (June 17), we caught up with Sean Kaufman and learned 10 Fun Facts about him, including how he has a connection to Timothee Chalamet.
Find out inside…
Check out the fun facts below…
1. I received two D1 baseball offers before pursuing acting in college.
2. Every day after shooting season 1, Chris Briney and I would race home in our cars and play Call of Duty all night.
3. One of the chemistry reads during the audition process for The Summer I Turned Pretty, was during a performance I had for a show I was doing in college so during intermission, I ran from the theater to my dorm and did the chemistry read, then ran back to the theater to do act two.
4. I grew up in the same building as Timothee Chalamet, and sometimes call him my friend even though we've never had a conversation past two seconds.
5. I prefer stars to sunsets. I'm a city kid so seeing stars is always a spectacle to me.
6. For the past year I haven't officially unpacked my suitcase and am still technically living out of it.
7. My favorite place in the city to go eat was a place called Ichiumi, they do $30 all you can eat sushi and Japanese food, and my family and I used to not eat anything all day just to go there and try to eat our money's worth. The place unfortunately closed due to COVID :(.
8. I do a pretty good Donald Duck impression. I think it's impressive.
9. If I could only eat three types of food for the rest of my life it would have to be: Japanese food, Mexican food, and then wings. I love wings.
10. I'm a human encyclopedia when it comes to rap lyrics.
ICYMI: The Summer I Turned Pretty has already been renewed for a season two!
Like Just Jared Jr. on FB