Fri, 22 July 2022 at 4:40 pm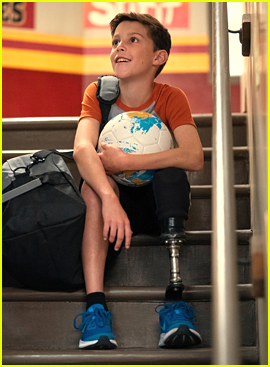 Best Foot Forward is the cute new, kids and family series you need to start watching!
The new show just debuted on Apple TV+ and is based on Paralympian Josh Sundquist's book "Just Don't Fall."
BFF follows 12-year-old Josh Dubin as he goes from homeschool to public school, eager to experience everything middle school has to offer! But along the way, Josh also faces a brand-new set of challenges, including how to get an entire school of kids to see past his prosthetic leg, and get to know him for who he is.
Starring in the show as Josh is newcomer Logan Marmino, and we got to know 10 Fun Facts about him!
Find out what he shared inside…
1. I have never acted before, it was never on my radar and Best Foot Forward found me through social media! I had no idea what I was getting myself into and fell in love with it immediately!
2. Despite many assumptions as to how I lost my leg, I was actually born without it caused by amniotic band syndrome. It was a shock to my parents at my birth. However, I was fitted with my first prosthetic at 9 months old so that I could learn to walk like any other kid around my first birthday.
3. Many people don't notice that I am also missing two fingers on my left hand caused by the same thing at birth. It wasn't until the pandemic that I had to teach myself how to type very fast when all of our schools closed down in 2020.
4. I started playing baseball at age 5 then started running adaptive track and field and many 5K races with my family. I was born into a running family. I have been playing travel baseball since age 8 and I hope to play for the MLB one day!
5. I hold several national records in the adaptive track and field U11 and U14 age groups in the 200m, 400m, shotput and discus.
6. I have a crazy love for science, art and photography. I have been drawing since I was very little.
7. Just like in the show, I also presented my parents with a full power point presentation, trying to convince them to let us get our puppy, Ollie Enzo Marmino. It worked!
8. I spend any chance I can between baseball games and practices at the lake or ocean fishing with my Dad.
9. Our family always does a big breakfast on weekend mornings. My specialty is omelets or making home made donuts with dad.
10. My favorite place to vacation is any beach on the east coast! We live close to the shore so I love to surf and boogie board.
Best Foot Forward is streaming NOW on Apple TV+. Check out the trailer below!
Like Just Jared Jr. on FB