Thu, 28 July 2022 at 4:07 pm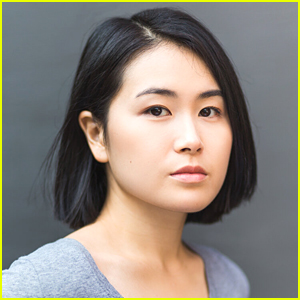 Amy Keum will soon be seen co-starring in the new comedy Honor Society!
The actress plays aspiring playwright Kennedy in the Paramount+ original feature, from Awesomeness Films.
Here's a synopsis: Honor (Angourie Rice) is an ambitious high school senior whose sole focus is getting into an Ivy League college … assuming she can first score the coveted recommendation from her guidance counselor, Mr. Calvin (Christopher Mintz-Plasse). Willing to do whatever it takes, Honor concocts a Machiavellian plan to take down her top three student competitors, until things take a turn when she unexpectedly falls for her biggest competition, Michael (Gaten Matarazzo). Watch the trailer!
Ahead of the movie's release, we caught up with Amy and got to know 10 Fun Facts about her.
See what she shared inside…
ICYMI: See the photos of Amy and her co-stars at the movie premiere last weekend!
Check out Amy's fun facts below…
1. When I was 11, I smuggled a hamster in my pocket onto an international cruise. (and got caught afterward)
2. I sing and play the bass guitar and piano.
3. My all-time favorite movie is Josie and the Pussycats and no one can make me think otherwise.
4. I'm obsessed with miniature things – tiny food, tiny houses, you name it!
5. My first breakout role was as a mushroom in Rodgers and Hammerstein's Cinderella in the 7th grade. And no, that was not a real role in the script.
6. I spent all of high school preparing to study Chemistry and ended up majoring in Musical Theatre in college.
7. I'm usually listening to KPOP! Twice is my favorite group (where my Once's at??)
8. My latest food obsessions are everything bagels with cream cheese and this Yemenite pastry called Malawach. If you haven't tried it, you're missing out!
9. I love personality tests and making everyone in my life take them.
10. My sister and I wrote a musical called Yellow Fever when I was in high school.
Honor Society begins streaming on Paramount+ on Friday, July 29th, in the U.S., Canada, Australia and the U.K., and later this year in Latin America, Italy, Germany, Switzerland, Austria and France.
Amy will also be making her Broadway debut this fall in KPOP The Musical.
Here's a synopsis: As global superstars put everything on the line for a special one-night-only concert, one singer – played by K-pop and musical theater sensation Luna – faces an inner struggle that threatens to dismantle one of the hottest labels in K-pop. Pulsing with infectious beats, electrifying choreography, and breathtaking joy, KPOP is an all-consuming multimedia experience that explores the relentless discipline, raw talent, and commercial ambition behind the heart-thumping international phenomenon.
Like Just Jared Jr. on FB