Mon, 29 August 2022 at 5:37 pm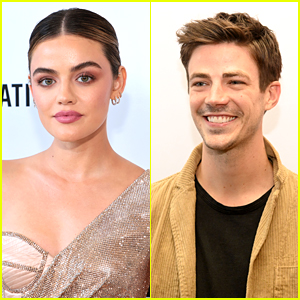 Lucy Hale and Grant Gustin will be starring in a new movie together!
The former and current CW stars both shared posts on Monday (August 29), saying they wrapped filming in Kelowna, which is a city in British Columbia, Canada, northeast of Vancouver.
"that's a wrap on a truly special time in Kelowna on a project I can't wait to share more about soon. Will miss this beautiful place & all the incredible people involved. I have never wheeze laughed so much in my life. What a time ♥️," Lucy captioned her post.
Grant wrote, "That's a picture wrap on me & Jett. Just had the most wonderful experience in Kelowna with some of the kindest, most fun people I've ever met. Soo much laughing. So sad to see it end, but I can't wait to share this project with everyone."
After a little bit of digging, we think we have an idea on what this project is!
Find out inside…
Lucy tagged director Nick Fabiano and producer Richard Alan Reid, who is an executive producer with Buzzfeed Studios, so it looks like we have a director and studio headlining the feature.
Grant also seemed to hint that his dog Jett will be in the movie…
We found a tweet from last week saying that Lucy and Grant were filming a Buzzfeed featurefilm called "Puppyhood," which would explain Jett's involvement.
However, even more so, Nick directed a series of short films called Puppyhood for Buzzfeed and Purina Puppy Chow back in 2015 and 2016!
In the first video's description, it reads, "This man found a soulmate in a puppy and it's adorable. Grow up right from the first bite."
So, as you can see, it looks they have turned the Puppyhood videos into a full length film.
Stay tuned as official details are revealed!
Like Just Jared Jr. on FB