Fri, 03 February 2023 at 12:25 pm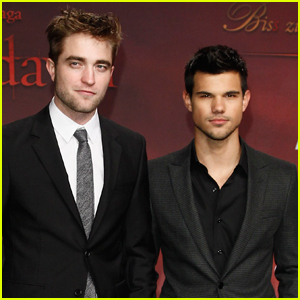 Jacob Black and Edward Cullen had a strained relationship as they competed for Bella Swan's affections in Twilight. That competitive edge split the fandom in "Team Edward" and "Team Jacob" as they rallied behind their fav.
Did it affect Jacob and Edward's actors Taylor Lautner and Robert Pattinson?
Taylor, 30, opened up about his relationship with Robert during a recent podcast appearance.
Read more about Taylor Lautner's relationship with Robert Pattinson…
During an appearance on The Toast, Taylor said he'd "be lying" if he said that the divided fandom didn't affect him.
"I was so young. I was 16 when Twilight came out, 17 for New Moon and Eclipse. I finished the franchise by the time I was 19," he recalled.
"I was so young and yeah, I do feel like it was very strange traveling the world and being in different cities and having thousands of screaming fans either taking your side or the other guy's side," he continued.
Taylor noted that they were a team, but said "it was a little bizarre, the competitiveness."
However, he made it clear that he and Robert weren't at odds: "There wasn't a competitiveness between me and Rob, but having that constant reminder, it definitely had an impact."
Did you know another famous actor was almost cast as Jacob instead of Taylor?
Another A-lister also reacted to being author Stephenie Meyer's "perfect Edward."
Like Just Jared Jr. on FB