Sun, 23 January 2011 at 1:56 pm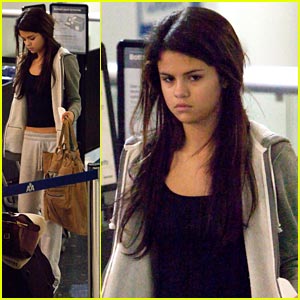 Not all the way awake, Selena Gomez goes through security at LAX airport in Los Angeles to catch a very late night flight on Saturday (January 22).
The 18-year-old actress saw her film, Ramona and Beezus, honored at the 12th Annual Women's Image Network Awards earlier this month. The film's director, Elizabeth Allen, took home the award for Best Director.
Costar Jennifer Stone dished to JSYK about her on-and-off-screen BFF: "She is one of those people who make you want to be a better person. When you meet people and they're apart of your life they can either cut you in half or double you. Selena is definitely one of those people who doesn't only double you but she triples you. I cannot wax poetic enough about her. She's just a wonderful human being."
Awww!
Like Just Jared Jr. on FB