Tue, 08 December 2015 at 12:20 pm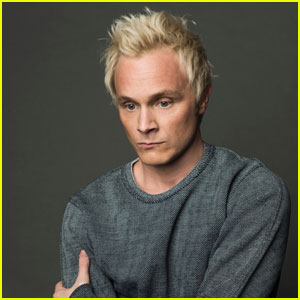 Check out this brand new interview with iZombie star David Anders!
JJJ caught up with our favorite on-screen villain to chat about what's ahead for Blaine – including possible romance!
Is Blaine redeemable? What's his deal with Liv (Rose McIver)? And what does David love most about his roles on The Vampire Diaries and Once Upon a Time?
All was answered! Check it:
Don't forget – iZombie airs TONIGHT, December 8 @ 9PM on The CW!
JustJaredJr.com: Congrats on more episodes! Did you do anything to celebrate?
David Anders: I was busy Blaine-ing my brains out. Found out from many a crew member and gave out many many many high-fives to commemorate.
JJJ: Every time we think Blaine might have some good qualities, he goes and kills a family member or something pretty bad. Is he a redeemable character or is he evil at his core?
DA: I reckon he's redeemably awful and we're getting into more of why he is such in these upcoming episodes. People already seem to like him enough-ish in spite of his transgressions and I know when what's to come comes…folks are going to play their tiny violins while weeping at a support group for him.
Click inside to read the rest of our interview with David Anders…
JustJaredJr.com Interview – David Anders
JJJ: His relationship with Liv is one of the most interesting of the series. How would you describe it? Is it a friendship? Is he attracted to her?
DA: Oh sure, he's attracted to her. But also intrigued. She's such a patron saint even when faced with being this weird aberration of nature…and bad utopium and max rager. I do think he thinks of them of being friendly adversaries. Of course, Blaine doesn't read social cues real well.
JJJ: Speaking of attraction, we sort of love the idea of Peyton (Aly Michalka) and Blaine in a twisted way. Is that something you could see happening after some light flirting in recent episodes?
DA: I think there's a strong chance of those sparks turning into wildfire. But like said wildfire…nothing good can come from it.
JJJ: How do you think Blaine would handle being in a real relationship? Would it soften him?
DA: Given the opportunity for true love I think you'd see the kid be a real true blue softie dear-hearted son of a b-tch. I can't wait to see that. And play it!
JJJ: You've often played the bad guys we love to hate. What your secret to riding that line of likeability?
DA: Can't say I can speak to that. I'm always flattered when people say that, but I feel most of the things my guys do on-screen are too despicable to quip his way back into good graces.
JJJ: Do you prefer zombie Blaine or cured Blaine? What are the major differences in how you portray him, if any?
DA: I've found human Blaine is a lot more dare I say, human. Flawed. Not as cocksure. Lots of self-examination and reflection, whereas ZomBlaine doesn't give a f-ck bout nothing. They both love that paper tho.
JJJ: We have to ask about Vampire Diaries. What's your fondest memory from filming that show?
DA: That show was such unexpected perfection working with old chums like Over the Shoulder [Ian] Smolderholder and making life long chums in [Nina] Dobrev, [Paul] Wesley, [Michael] Trevino, [Zach] Roerig, [Matt] Davis, [Sara] Canning, Paul Sommers, Kevin Williamson etc et al and on and on. Too many to "fonds" to count,so I'll just say "every moment involving me."
JJJ: You were recently back on Once Upon A Time. How was it being back on that set?
DA: Just like once upon old times! Love the lot of them over there, so it was nice to go back even if only for a frame or two.
iZombie airs Tuesdays @ 9PM on The CW!
Like Just Jared Jr. on FB