Thu, 18 February 2016 at 9:00 pm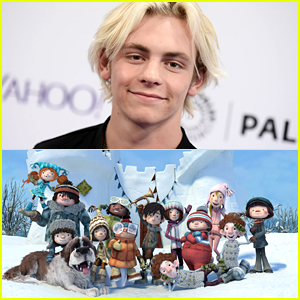 Ross Lynch's brand-new movie, Snowtime!, is hitting select theaters TOMORROW!
JJJ had the chance to speak with the 20-year-old actor and musician all about playing Piers in the film, and if he could actually build that totally awesome snow fort.
In Snowtime!, to amuse themselves during the winter school break, the kids in a small village decide to have a massive snowball fight and after the snow fort is built, whichever side occupies the fort at the end of the winter break, wins.


JJJ: What appealed to you about the movie?
Ross Lynch: What originally appealed to me was the opportunity to do an animated film. It's always been something I've been very interested in and I've always wanted to try it. I've done a few voice over roles here and there and it was always a good time and that was what originally sparked my interest. When I was doing the project, the creators and producers and everyone involved in Snowtime was actually really fun to work with. It was a really fun time. I'm really happy that I did it.
JJJ: Tell us more about your character, Piers
RL: I think what everyone likes about him is his relationship with the dog, Cleo. It's a really cute relationship and they animated it really well. I like how he fits into the group of kids who are in this snowball fight. He's kind of the…I wouldn't say he's a dork, but he's just gentle.
Click inside for more of our interview with Ross Lynch…
JJJ: If you hosted the ultimate snowball fight, who would be on your fantasy team?
RL: My fantasy team would have to be all NFL players or something to win. I'd have to have Tom Brady, and Russell Wilson, and Andrew Luck. Of course, I'd have to get Riker and Rocky and Rydel and Ratliff and Ryland. That's the dream team right there. I grew up in Denver, so there's a lot of snow and we were all a little bit younger, we'd used to have all sorts of snowball fights together. But we never made a fort quite as awesome as the one in the movie.
JJJ: So, about this snowball fort that's in the movie. If you could actually build this in real life, what things would you add?
RL: I wish you could build a fort just like that one. It would be super fun and awesome to have that fort. But I don't actually think it could work, but if it was, it wouldn't be very easy to build. In this fort in the movie, they've got security cameras and secret hatch doors and a snowball depository…they've got it going for them. It would be challenging to actually build. I think if I could add anything to it, it'd be a sofa or something that I can lounge on.
JJJ: In the film, the snow is year-round for these kids. Do you think you'd survive in that kind of town?
RL: I don't know if it would be quite for me. I think i could do it though…we'd have to see.
JJJ: Piers is insanely close to his dog, Cleo.
RL: If I was as close as Piers is to Cleo, and I had that relationship, I probably would [take her everywhere]. I like how she's everywhere and she's really a town dog. Everyone loves her. However, in a real life situation to have a dog like that, it would kind of be difficult because of my situation and you couldn't really take them everywhere…although, I do know a few people who have their own pets registered as emotional support dogs. These people that I do know, I don't think I've ever seen them without their dog.
I think that the loss is a big part of the movie and very crucial to the whole storyline. With Luc, who plays the bugle, he relates to the loss of Cleo so much because he lost his dad in the war and now Cleo is the one who gets hurt by the snowball fight. The fun of the fight turned into something serious really fast. Relating to that, just losing anything. It's always hard parting ways with something you love so much.
JJJ: Who is actually tour favorite character in the movie?
RL: Lucy is cute, but I love Frankie. He's always flirting with the girls and he's outrageous and fun. He's that spark character who's unpredictable. He's one of my favorites.
JJJ: How good of a snowball maker are you?
RL: I'm pretty good, I think…but I haven't done it in about ten years.
JJJ: We know you prefer skating, but if you had to chose, would you rather snowboard or ski?
RL: I think I prefer snowboarding actually. I'd rather snowboard than actually make a snow fort, or ski. Overall though, ice hockey is my thing and I've been playing that since I was three. That's my winter sport.
Like Just Jared Jr. on FB