Tue, 01 November 2016 at 4:59 pm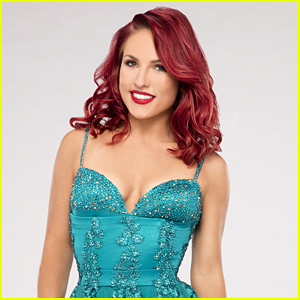 We were so sad that Sharna Burgess had to sit out from performing on Dancing With The Stars last night.
The pro dancer wrote an exclusive blog just for JJJ, opening up about her knee injury, partner James Hinchcliffe and what next week will look like on the show. Check it:
"Last night was equally incredible and difficult for me. I was so proud to be watching James get a perfect score and dance so beautifully, and at the same time sad that I did not get to share that moment with him. James and I had been planning on being the Joker and Harley Quinn the whole season and I have been planning that number for weeks now! It was definitely a piece I was most excited about this season. However, James truly danced it beautifully and once again brought all of my ideas to life. It was a really difficult week to try and be there for James as much as I normally would. I was still his choreographer and teacher, but it was challenging because I was in another state. I was doing a lot of directing via FaceTime and via video, giving them notes nearly everyday.
"When I returned on Sunday, I had an incredible three hour tweaking session with them and had them really dive into those characters. It was important for me to be there to put the finishing touches on the number and finally see it in person. I must say even though I was not able to perform, it was amazing for me to watch my work as a choreographer and my creative vision come to life. Moments like that remind me of how many layers this show allows me to have with the performances you see week to week. James and Jenna [Johnson] molded into these characters and performed it in a way that could not make me happier. James was such a trooper with adapting to a new partner and Jenna is a fantastic dancer. I genuinely got 'all the things' this week and can't stop smiling about it!
"Heading into Week 9 of the competition, I am still going to rest my knee as much as I can but I am planning to be back as soon as possible. We have two dances these week and it is also ShowStoppers Week and I am very excited about our pairing. We will be dancing the Paso, so you already know it will be fiery, passionate, and very strong!
"I have to give a huge thank you to everybody who has sent me well wishes and messages of healing. I love reading them. I feel it when I am reading them and I am so grateful to have such incredible fans giving me so much support. Please continue to give that support to Team StopNGo like you have been! James really is amazing and he deserves to be in that final! I am going to do everything in my power to get him there, whether I am on the dance floor with him or not."
Get well soon, Sharna! We can't wait to have you back on the dance floor!
Like Just Jared Jr. on FB