Thu, 22 December 2016 at 5:40 pm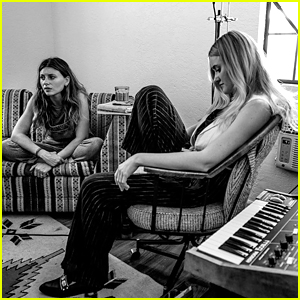 One of the greatest pieces of news this year was when Aly & AJ told us all that they were making brand new music.
In a recent interview, AJ opened up about the sisters' decision to return to their music and what fans can expect for their new sound.
Here's all what we know so far:
They're planning a 10-song EP
"We're kind of writing three records and making one," AJ says. "It's always smarter to write more material than needed so that all you have to do is narrow it down afterwards."
She adds: "We'd probably want to make a 10 song record but I think our plan is to find three songs we absolutely love and get those out first."
Want more Aly & AJ scoop? Click inside for more!
They're doing things different this time
"Times have definitely changed and so were definitely starting to strategize on how well be streaming and releasing our music," she says. "Using those types of platforms is probably the most important way to reintroduce ourselves."
On their break from music
"We took a pause for a long time because we just weren't feeling inspired," AJ shared, adding, ""There was definitely a sense of writers block going on and we were very fearful of that."
She continues, "There was also this sense of doubt about whether wed be able to prove ourselves as adults. I think, for a long time, we were definitely our own worst enemy because we were thinking that maybe music wasnt for us anymore."
Their influences this time around are really different
"We've actually referenced so many great artists for this past record. Kate Bush has been such a big influence for us. Also, bands like Beach House, St. Lucia and Tame Impala definitely have the sound we love."
AJ adds, "For me, its just about the sonic energy that you get when you listen to a record and your ears just tingle because you're so excited about what youre hearing. Thats what Aly and I aim for…We've been singing together for so long that its easy to get stuck in this kind of robotic sound so its just about making it fresh again and finding ways to harmonize in a cool way that sounds and feels real to us.
Like Just Jared Jr. on FB