Mon, 05 June 2017 at 2:37 pm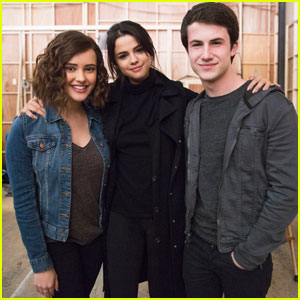 Selena Gomez has already visited the writers' room for 13 Reasons Why season two!
The 24-year-old executive producer recently opened up about what fans can expect – and why she understands some of the criticism the show has gotten.
"I was definitely overwhelmed with the reaction because we had the rights to the book for seven years so we knew we wanted to do the book justice because it already had a following," Selena told Elvis Duran and the Morning Show. "The content is complicated, it's dark and it has moments that are honestly really hard to swallow. I understood that we were going into something that is difficult, but these kids today are so exposed to things that I would never even comprehend when I was eight…I feel like if this is what we are going to talk about we might as well do it in a way that's going to be honest, it's going to be real and it stays true to the book."
"So all the questions that came up and all the talk about it was all valid and I understand it, but I think with Season 2 we're going to actually answer a lot of those questions and a lot of resolution with the characters are going to come," she continued. "These kids put their heart in it, I mean Katherine [Langford] and Dylan [Minnette] were unbelievable and they believed the story and they understand that this is happening everyday, so whether or not you wanted to see it, that's what's happening."
Selena also said, "With season 2, we kind of go into the resolution of where these characters are going, so I went to the writer's room the other day and I felt like I was watching a movie because I was freaking out on where they're going and it's actually really encouraging and empowering and so we're going to take a little inspiration from the first and bring it into the second."
"I think that stuff is uncomfortable for people to talk about, but it is happening and hopefully it opened the door for people to actually accept what's happening and actually go and change it, talk about it," she added.

Selena Gomez Talks 13 Reasons Why on Elvis Duran
Like Just Jared Jr. on FB