Sun, 25 June 2017 at 1:30 pm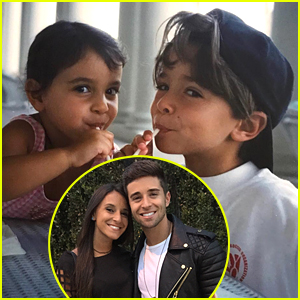 We don't know about you, but Jake Miller's relationship with his sister, Jenny, is sibling goals.
You can feel the love the musician has for sister, showcased in his latest Instagram, in honor of her birthday.
Jake and Jenny's bond is so strong that before his new album, 2 AM in LA, was released, she was supposed to be featured on "Palm Blvd".
"No one knows that my sister, Jenny, is an amazing singer — she doesn't sing in front of any other people, but she's amazing — and originally she was supposed to sing a verse on it," Jake told us in an interview.
Jenny was supposed to sing the second verse of the track, but ultimately ended up not doing it.
"We had it all written in her point of view, and I had flight booked to go back to Florida and get her in the studio," Jake says. "Right when I was supposed to fly there though, she called my crying. She really wanted to do it, but she didn't feel that she had the courage to put herself out there and open to criticism like that."
We definitely love "Palm Blvd" the way it is (seriously, it's our jam), but would've loved to hear Jenny sing on it. We know it would've been even more amazing.
Jake adds about the song, and the meaning behind it, "I just had so many amazing memories looking back in my childhood and being that 12-year-old kid who just ran around and played baseball with my friends and did stupid pranks."
"That's what the song is about, just about throughout the craziness and throughout Hollywood and my career and the music industry — never forgetting that young kid inside me and always remembering where I come from and my roots.
"It's always been a huge thing that my parents had instilled in me; Never forget where I'm from, how I was raised, my morals."
Click inside to the lyrics for Jake Miller's "Palm Blvd"…
Like Just Jared Jr. on FB