Mon, 21 May 2018 at 2:13 pm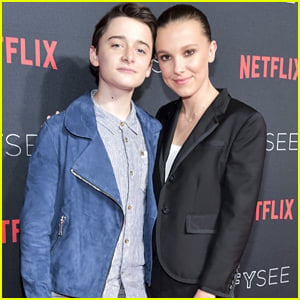 Over the weekend, Millie Bobby Brown and Noah Schnapp let us in on how Stranger Things season three is going to be, and let's just say, we're excited.
"Season 1, I feel like, was more playful," Noah shared with Variety. "Season 2 was a lot darker. And then Season 3 does really well blending them together, and that's what I love about it."
Millie, who plays Eleven, opened up about her character's transformation from science experiment to teenage girl for the new season.
"It's a beautiful storyline for Eleven this season," she says. "It's really a coming of age for her and understanding what being a normal teenage girl is."
Millie also added that the series has allowed to her to expand her acting skills, especially with season two.
"I found another side of my acting that I didn't know about," she shared. "I found techniques on how to cry and how to get angry, and I learned so much from Eleven, from those episodes of being isolated, that when I'm back [in] Season 3, things happen — stranger things happen."
Stranger Things seasons one and two are streaming now on Netflix.
Like Just Jared Jr. on FB