Sun, 01 December 2019 at 7:58 pm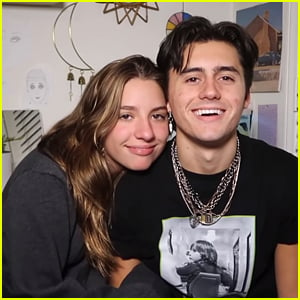 Isaak Presley and Kenzie Ziegler are dishing on their relationship!
In a new Q&A video, the young couple shared some tidbits about the nicknames they have for each other, how they got together, what their favorite thing about each other is, and more.
"I called her monkey face because monkeys are my favorite animal," Isaak shared. "I think monkeys are really cute."
As for their favorite things about each other, Kenzie said that her beau was perfect.
"I don't think there's one thing I hate about him, everything is my favorite thing about him, because he's perfect," she said. "I think one of my favorite things is your humor, because you're so funny and always making me laugh."
"There's a plethora of things for me," Isaak said about Kenzie. "I think mine would probably be, if I had to pick just one, how sweet she is. She's genuinely the sweetest person I've ever met before in my entire life, which is the first thing I noticed about her. She's very sweet and loving, and unconditionally just a very lovely person."
Like Just Jared Jr. on FB