Fri, 14 February 2020 at 11:00 am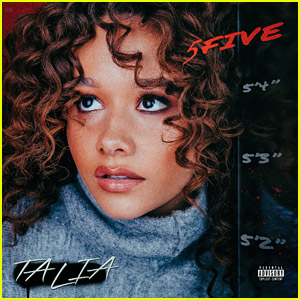 Talia Jackson just dropped her brand new single "5FIVE" and we got the scoop on the track!
If you didn't know, the 18-year-old Family Reunion actress is also an amazing singer and is releasing more new music in the near future.
JJJ recently spoke with Talia to learn more about her new song, as well as what to expect from her new music, and her hit Netflix show.
"I think everybody has had that one person who always says you guys are just friends in public, but are much more than just friends when you're alone together," she dished on "5FIVE".
Listen to "5FIVE" below and be sure to download the track RIGHT HERE!
Click inside for our full interview with singer and actress Talia Jackson…
Just Jared Jr: What inspired your new single?
Talia Jackson: The song was inspired by my own experiences with boys. I think everybody has had that one person who always says you guys are just friends in public, but are much more than just friends when you're alone together.
JJJ: Do you have plans to release an EP or an album?
TJ: Yes, I am working on my EP right now. I've just begun writing my 2nd track, and will be releasing it in March.
JJJ: What are your goals with music?
TJ: I'm working first on developing my sound and writing songs that resonate with my generation while also incorporating my own life experiences. My bigger goals in music would be to collaborate with my favorite artists.
JJJ: Who do you look up to in music?
TJ: I'd say Kehlani, Frank Ocean, and The Neighborhood are my top 3 artists I look up to.
JJJ: What's next for your music career?
TJ: I'm currently meeting with labels. I plan to take my time making the decision on the right fit for my career.
JJJ: What was it like combining your singing with your acting career on Family Reunion?
TJ: I was thrilled that the creator of our show, Meg DeLoatch, decided to devote an episode to Jade finding her voice. It was my favorite episode and I had so much fun shooting the music video with Tyler Cole and some of the cast.
JJJ: Family Reunion Part 2 is out, what was your favorite part of the new season?
TJ: I love that Jade gets to wear her natural hair and develop relationships with some important new characters like Royale.
JJJ: The show tackles real life situations, how important is it for you to be a part of those conversations?
TJ: I'm so thankful that I'm on a show that can tackle deeper subjects/topics. I think it's very important for today's youth to feel included in the "adult conversation", so I'm very glad Netflix allows us to have those conversations.
JJJ: What would you hope to be touched on in season 2?
TJ: Hmmm, that's an interesting question… I think it would be fun to see more of Jade's friends from Seattle to visit her or even move in with her temporarily.
JJJ: What's your favorite part about playing Jade?
TJ: Playing Jade has been such a fun experience, it's almost like I get to live a double life with her. We're both so similar in many ways and I feel like we both have the same sarcastic look at life.
JJJ: What have you learned from working with seasoned actors like Loretta Devine, Richard Roundtree and Tia Mowry-Hardrict?
TJ: I've learned so much, they're all so inspirational and helpful with all of us kids. Tia and Loretta are always giving me advice on set; they're kind of like my second family.
JJJ: Outside of Family Reunion, do you have any upcoming projects you can talk about?
TJ: There are a few films that I am in the mix for that shoot after Family Reunion wraps in July, but nothing confirmed yet.
JJJ: What are your acting goals?
TJ: I would love to work on an awesome drama series like Euphoria, or Shameless or a cool, edgy film as a character that challenges myself as an actor. My ultimate goal would be to win an Oscar.
Like Just Jared Jr. on FB