Wed, 25 March 2020 at 12:51 pm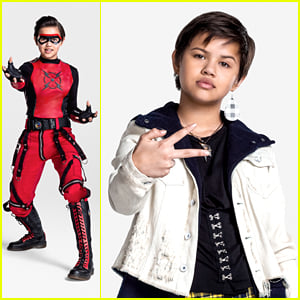 Danger Force is premiering this weekend and we are getting to know all the new stars of the show!
The new Nickelodeon series is a spinoff of Henry Danger, following four new heroes under the guidance of Captain Man and Schwoz.
To celebrate the new show, Just Jared Jr is helping to introduce the four new stars all week!
First up, we are getting to know Havan Flores who plays Chapa.
While learning about Havan, we found out that she is quite the athlete, is a great baker, and really, really loves animals.
Be sure to tune in to the series premiere of Danger Force THIS Saturday (March 28) at 8/7c on Nickelodeon!
Click inside for 10 Fun Facts with Havan Flores…
I'm an athlete and I love the excitement of competition. Being on a team is the best!
I've been tumbling and doing cheer since I was six. I also love softball, catching and 3rd base are my favorites spots. My sister taught me to catch and my mom taught us both to play.
I love to do anything outside. Fishing with my family is one of my favorites.
My grandparents have been a big part of my life and they have taught me to bake, grow a garden and can fruits and vegetables.
I got a blue ribbon one year at the county fair for my homemade bread.
I LOVE animals, all of them. My family raises chickens, and every year I have to get in the chicken house and pull all the snakes out.
My dad is in the military, so we have moved a lot, and Japan was my favorite station. He has had to miss a lot of things but he's always supporting me.
Math is my favorite subject… 😁 No it really is!
I have a blind cat named Bob Lee.
Vacation Bible School is one of the things I look forward to every summer.
Like Just Jared Jr. on FB