Mon, 11 May 2020 at 3:43 pm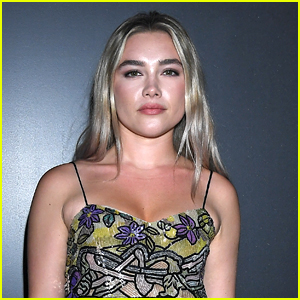 Florence Pugh is opening up about joining the Marvel Cinematic Universe!
The 24-year-old actress co-stars in the new Black Widow standalone movie alongside Scarlett Johansson, and dished about the film in her Elle UK cover story. See what she said:
On being part of the Marvel franchise: "When you think of Marvel, it's big and daunting. Especially being a relatively small actor to look at it and go, 'Oh! I'm going to be a part of this,' that's a big decision."
On when the Black Widow cast was revealed at San Diego Comic-Con: "I was scared because my Russian accent was going to be out there and I didn't know what it sounded like. I'm also playing a character who no one's seen before but they've read about her; I didn't know whether people were going to hate me. We [Scarlett Johansson] both stood there and I instantly had clammy, sweaty hands. Scarlett gave me her hand and we squeezed each other, and she also had clammy hands! And then I was like, 'Oh, this never gets old. This is just as powerful [for you] and you're their legend'."
On being in the right shape for the role: "When I got the job, I wanted to know what the regime was. I wanted to know whether it was them or me calling the shots. That was a big deal for me. I didn't want to be part of something where I was constantly checked on. And people making sure I was in the 'right' shape. That's not me at all."
Black Widow's release date was pushed back due to the global pandemic. Find out the new date right here!
Like Just Jared Jr. on FB