Tue, 15 September 2020 at 1:39 pm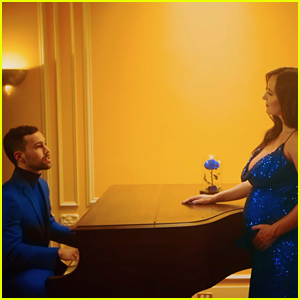 MAX serenades his wife Emily in the just released music video for his song "Blueberry Eyes"!
The 28-year-old's new song also features a verse by SUGA from BTS.
"So anyway, we hang out and he had never been to a basketball game so I brought him to his first basketball game ever in LA. It was the Kobe Bryant tribute game. Lebron [James] played live, so special," MAX told Apple Music about his friendship with SUGA.
"And our musical relationship stemmed from a friendship and that he brought me to Korean barbecue and we just talked about music," he continued. "He asked me to be on his project Agust D and I asked him to be on my album. So I sent him every song in the album and I just said, 'Whichever one you're feeling you can jump on.' He loved 'Blueberry Eyes' and it's amazing because his verse is so poetic and romantic and he slid his own story right into it. It's really perfect."
MAX also opened up about the video concept in the video's YouTube description.
"Bringing this music video to life has been such a special experience. I wanted it to feel as if Disney magically made a baby with Wes Anderson in the world of Colour Vision with every bit of our souls intertwined," he wrote.
"Emily is my actual wife and she is really pregnant right now with our first child, so art imitates life in a fun way with this video," MAX added. "We studied and memorized all of the Korean lyrics to Suga's incredible and romantic verse and all of the blueberries in the bathtub ended up being reused to create limited edition blueberry dyed blueberry eyes shirts."
"This video is a piece of our hearts and I hope it sparks the same magic in you viewing it as it did for us creating it," MAX said. "Thank you to Suga for being so brilliant on this song and more importantly for being a wonderful friend. Much love."
If you missed it, check out MAX and Emily's baby announcement, where they also revealed if they were having a boy or a girl!

MAX – 'Blueberry Eyes' feat. SUGA
Like Just Jared Jr. on FB