Fri, 02 October 2020 at 5:07 pm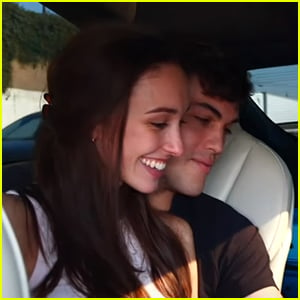 The Dolan Twins' latest YouTube vlog is super sweet and heartwarming!
In the video, Ethan and Grayson head to the airport to pick up Ethan's girlfriend Kristina, who flew in from Australia.
"On my way to the airport," Ethan tweeted on Thursday (October 10).
After the vlog was posted, he tweeted, "a happy time in my life."
"I'm not gonna lie, this is a surreal feeling," Ethan says in the video. "It's been about four months since we've seen each other, and I had no clue when we were gonna be able to see each other again."
"Yeah, for you guys that don't know, my girlfriend lives in Australia, and they closed the borders down there because of the pandemic," he added. "I applied for my residency, but my application is still being reviewed. She luckily was able to get an exemption to travel here to visit and I don't know how the f–k it happened, but I'm extremely blessed."
Kristina will be staying with the twins for a couple weeks, but don't expect to see her much in vlogs.
"I don't like the camera on me," she says in one part of the video.
Watch the heartwarming reunion in the video now!
Like Just Jared Jr. on FB