Fri, 04 December 2020 at 2:23 pm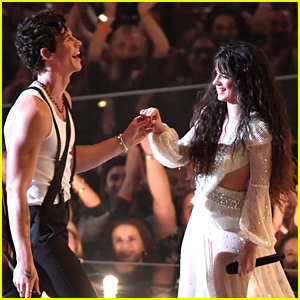 Shawn Mendes is opening up once again about his love for Camila Cabello!
The 22-year-old Wonder musician dished that he has fallen even more in love with her through quarantine, but before they started dating, he was afraid that she would reject him.
"It takes a lot of courage to tell the woman that you love that you love her," Shawn told Access Hollywood. "I had five years of fear of getting rejected by her that just stopped me from doing it every time — or just confidence. I think, you know, it just took a lot. It took a long time of preparing. I mean, I had a five-year warmup to finally be able to tell her how I felt!"
During another interview, Shawn gushed that he's been falling more and more in love with her throughout this year.
"I remember in those first few months of being with her in Miami, and being you know… I've always seen, to get mushy on you guys, but I've always seen her like really done up, like we're in New York City, we're in LA, we're working, there's a lot going on, and more of the time it was like a lot was going on," he told Zach Sang. "But now, it's been a couple weeks, and I'm seeing her in her like very natural Miami way, and I'm just falling in love so much more than I ever thought I was gonna."
"Extreme anxiety comes with that, especially for someone like me who was like, 'No, you're open, you got this. It doesn't matter, you're going to be fine no matter what. Things happen for a reason,'" he continued. "Yeah, you can believe things happen for a reason but then when you really love someone, and you feel like maybe they would leave you, you don't want to believe that things happen for a reason thing anymore, you know."
If you missed it, see what Camila shared about being in love and being with Shawn.
Like Just Jared Jr. on FB