Tue, 16 March 2021 at 3:12 pm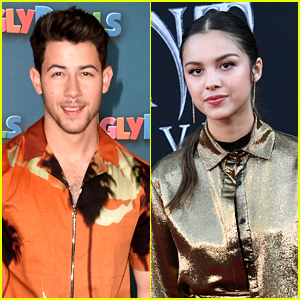 Nick Jonas is opening up about his love for Olivia Rodrigo's music!
The 28-year-old "This Is Heaven" singer talked about some of his favorite tracks with Apple Music's Zane Lowe, which includes the smash hit "drivers license," and his brothers actually introduced him to the song.
"I heard the song after Joe and Kevin unknowingly both sent me the song and said, 'Have you heard this?' I listened to it. And so I was like, 'Wow, this is great,'" Nick said.
"It actually reminded me of some of the things I love about musical theater and didn't really make the connection that it was her. But there was another song from the High School Musical show that I really loved, as well. 'All I Want.' And I was like, 'Man, she's super talented, super young, and able to speak to these things that are sort of these big, universal themes,'" he continued.
"But anytime you can write the song in a way where it just connects on a very human level that's specific to your experience, it was just phenomenal. And then I was just so happy to see it breakthrough in the way it did, because it just shows… My dad always used to say this, and it just makes perfect sense to me. He'd be like, 'A great song is a great song is a great song.' And when you have that and it connects in that way, the sky's the limit."
"And so I saw recently that it was her 18th birthday, and she was celebrating one of her multiple, multiple weeks at #1, so hats off to her. Congrats. It's very exciting. And I just think it's very good for the music business in general to have songs like this that kind of hit. In the movie business, we say four quadrant. It means it hits every age group," Nick concluded.
Olivia's song spent eight weeks at No 1 on the Billboard Hot 100 chart, and this is the first week since it's release that it has fallen from the top spot. It is now at the No 5 spot.

Nick Jonas on Apple Music
Like Just Jared Jr. on FB