Fri, 15 October 2021 at 7:19 pm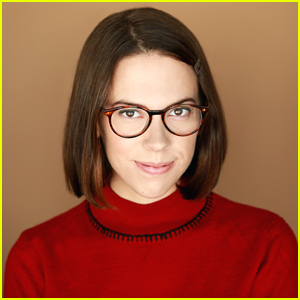 We're getting to know Melanie Brook!
The actress can currently be seen in the new Disney Channel Original Movie remake Under Wraps as Buzzy, who is the manager of Ernie's Erie Emporium Halloween store.
Keep reading to learn more…
The movie follows three 12-year-old friends, Marshall, Gilbert and Amy, as they happen upon and awaken a mummy, which they affectionately name Harold. Together, they must rush to return him to his resting place before midnight on Halloween.
Along the way, the team narrowly escapes a nefarious group of criminals who are determined to sell the mummy to the highest bidder. When Harold is inevitably captured, Marshall, Gilbert and Amy must band together to stand up to the criminals, face their fears and rescue their new—but rather "ancient"—friend.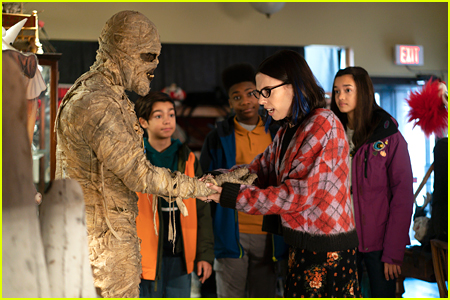 Under Wraps is currently available to stream on Disney+, and will next air on Disney Channel TOMORROW (October 16) at 5pm ET/PT.
Melanie, who originally hails from New York, can also be seen in episodes of Modern Love, Dispatchers from Elsewhere and Mrs Fletcher, and the movie Project Pay Day. Up next, fans can catch her in the upcoming movie Summertime Dropouts.
We got to know more about Melanie with 10 Fun Facts, including that she's a huge fan of a certain musical artist (names someone who isn't of this one!). Check out her fun facts below!
1. I collect vinyl records.
2. Carol Burnett is one of my biggest inspirations.
3. I'm the middle child of 3 girls. My older sister just had a baby named Frida and she is my favorite human on earth.
4. I have a big sweet tooth. Skittles & sour patch watermelon are my favorite and I know this is controversial but I love candy corn.
5. I'm a huge Taylor Swift fan (Swifties unite).
6. I sing constantly. Apologies to my roommate Michael. Singing was my first passion and I can't go a day without it.
7. I can name the year that any musical in history debuted on Broadway. I can relate Buzzy's (my character in Under Wraps) passion and nerdom of horror to my passion and nerdom of musical theatre.
8. I was captain of my high school's varsity tennis team.
9. I wrote, produced, and starred in a one woman show that I performed in both NYC and Texas.
10. I love pop punk music. I did a music based film about a band trying to make it to Warped Tour called Summertime Dropouts which was a blast. We got to film a scene & song with Simple Plan, who was one of my favorite bands in high school, so that was really cool. I also met 2 of my best friends on that job which was an added bonus!
Like Just Jared Jr. on FB