Fri, 15 October 2021 at 8:12 pm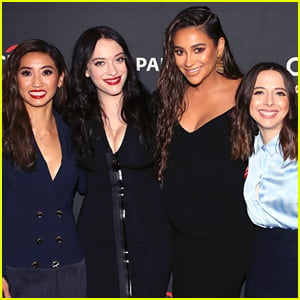 Season two of Dollface has officially wrapped filming!
Brenda Song revealed the news in an Instagram post on Friday (October 15).
The new mom stars alongside Kat Dennings, Shay Mitchell and Esther Povitsky in the Hulu series, which was delayed due to the pandemic.
"Aaaand that's a wrap on season 2 of @dollfaceonhulu !!! Words cannot express how grateful I am to all of these ( and so many more who aren't pictured) incredible humans, who worked so hard to make this season happen. It has been an insane journey but we did it!!!" she wrote in her post.
Read more inside…
"I love you all soooo much!! @michnader @katdenningsss @esthermonster @shaymitchell I truly don't know what I would have done without you guys. Thank you for being the most supportive, hilarious, talented, smart, kind and bad ass friends anyone could ask for. I love you guys an embarrassing amount. You all are stuck with me for forever…. and then some," she added.
Kat also shared a wrap post, the day before.
"That's a wrap on DOLLFACE SEASON 2! Without @brendasong, @esthermonster, @shaymitchell and our incredible showrunner @michnader, I would likely be dead by now. Probably from scurvy? I hope you guys love season 2 as much as I suspect you might, and if you don't, it's only like 75% my fault," she wrote.
If you missed it, this YouTuber and these actors have joined the cast of season two in recurring roles!
In case you forgot or didn't know, Brenda and her beau Macaulay Culkin just welcomed their first baby together back in April.
You can currently catch Brenda in the third season of her Disney Channel animated series Amphibia, which airs weekly on Saturday mornings at 9:30am ET/PT. She'll also be lending her voice to an upcoming Disney+ series!
Like Just Jared Jr. on FB