Mon, 06 December 2021 at 3:38 pm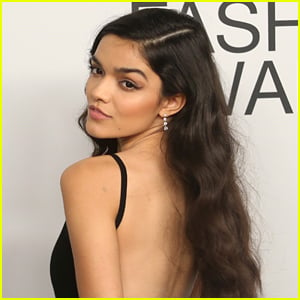 Rachel Zegler is opening up about the backlash around her being cast as Snow White in the upcoming live action depiction.
The 20-year-old West Side Story star is Colombian / American and after her casting was announced, she was met with many racist comments.
In a new interview with Elle magazine, Rachel shares how she feels about those comments, and on how the new West Side Story features Latinx actors in the Latinx roles, unlike the 1961 film.
Click inside to see what she said…
On West Side Story casting Latinx actors: "There's a sense of pride having so many incredible Latine performers in this movie—people who are from all over—because it's a real testament to the fact that we all come from so many different places. That's the point of the story, that we are all coming from our own backgrounds, our own conversations, our own upbringings. And what do we bring to the table if we can't talk to each other about it?"
On meeting the composer Stephen Sondheim: "I lost my mind. I just sank to my knees next to him instinctually. He said, 'I've heard you sing on YouTube. You're like a nightingale.' And I was like, 'Shut up. Fully, no, absolutely not.'"
On working on the movie Shazam!: "[It] is the greatest cast of all time. I've never had such a loving group of people, ever. I feel I've become dependent on them for my happiness, which is going to be really tough when we wrap it up."
On receiving some racist hate on social media after the casting of Snow White was announced: "These are a bunch of faceless people that you'll never encounter in your real life. They will never have the gall to come up to you at a Starbucks and say, 'You're not white enough to play Snow White,' I've got a responsibility for young people in the future, who [can] say, 'This Latina was able to play Snow White—I can do anything.'"
For more from Rachel, head to Elle.com!
Like Just Jared Jr. on FB