Tue, 31 January 2023 at 12:39 pm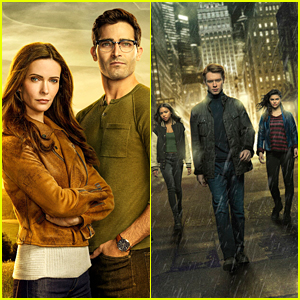 The future of two of The CW's shows are currently up in the air amidst the latest DC news!
New heads of DC Studios, James Gunn and Peter Safran, have just unveiled their plans for an intertwined television and movie slate.
However, it was revealed to press in those plans that the new duo, who has been mapping out their DC Universe, has parted ways with longtime DC television producer Greg Berlanti, according to THR.
Keep reading to find out more…
Greg had been developing a Green Lantern project, which was slated for HBO Max, but those plans got scrapped. Now, Gunn and Safran have revealed a new Lanterns project, different than what he was working on.
With Gunn and Safran parting with Greg, who has produced all of the DC shows on The CW, as well as Doom Patrol and Titans (both recently announced to be ending) on HBO Max, it's now unknown what will happen with the two remaining DC shows on The CW – Superman & Lois and upcoming new series Gotham Knights.
With all of the changes going on at The CW, it was recently revealed that the network is only going to renew about three shows, and one of those spots has already been filled, by another Berlanti-produced series, All American.
However, when asked about Superman & Lois, which was one of The CW's most streamed shows, bringing in the largest audience for a DC series since the Crisis crossover episode of The Flash, James shared he thinks it will still continue.
With Superman & Lois being a fan-favorite, and a show that's done well, James Gunn noted, "It's a show everybody likes, so it's going to keep going for a little bit," according to Variety.
He and Peter Safran did not have any comment on Gotham Knights, though.
Both Superman & Lois and Gotham Knights are gearing up for their midseason premieres on Tuesday, March 14th.
Stay tuned as we learn more about the future of the DC shows on The CW…
Like Just Jared Jr. on FB