Wed, 11 November 2009 at 7:30 am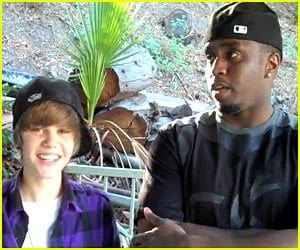 Justin Bieber has a big ol' smile on his face as shows his fans just a glimpse of his 48 hours with Diddy.
Diddy introduced the 15-year-old aspiring musician to one of his prized possessions — a snow white Lamborghini! Justin jokes with Diddy, "I'm 15, you can ride in the passenger seat. I've got my permit." Diddy didn't take the bait.
The push to get Diddy to work with Justin started right after the 2009 MTV VMAs, where they met for the first time. Following the show, Justin enlisted his fans to help get Diddy's attention with more tweets, suggesting that they make "#diddyandbieber" a trending topic.
Their plans for the next 48 hours? Justin suggested, "Let's just go get some girls."
Diddy agreed, "A man after my heart, that's what I'm talking about."

48 Hours With Justin Bieber & Diddy
Like Just Jared Jr. on FB