Fri, 19 February 2010 at 9:30 pm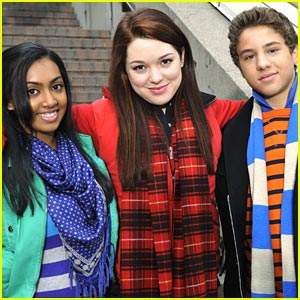 Jennifer Stone poses with costar pals Melinda Shankar and Alexander Conti in this new still from the upcoming Harriet The Spy: Blog Wars.
In the DCOM, willing to do whatever it takes to earn the coveted position, Harriet (Stone) competes against her arch nemesis, popular student Marion Hawthorne (Vanessa Morgan), in a month-long blog war to win her classmates support.‪
When Harriet's father, movie producer Roger Welsch (Doug Murray), signs on to produce the sequel to the hottest teen-musical, "Spy High," she knows her inside scoop will be a perfect opportunity to win over her classmates. Despite Harriet's disdain for the movie and its star popular teen heartthrob, Skander Hill (Wesley Morgan), she embarks on a mission to spy on him and expose his true colors.
Harriet, with the help of best friends Sport and Janie (Conti, Shankar), manages to turn Skander's every misstep into fodder for her postings. But when her blog entries begin to take on a life of their own, it's up to Harriet to set the record straight before she unwittingly brings down her father's film and Skander's career.
Harriet The Spy: Blog Wars premieres NEXT month, March 26 @ 8PM ET/PT on Disney Channel. 15+ stills inside…
Like Just Jared Jr. on FB