Tue, 23 March 2010 at 3:30 pm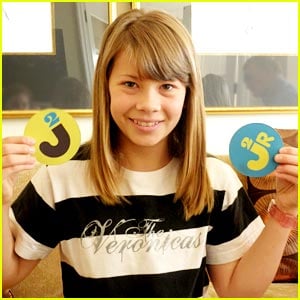 Showing her support for The Veronicas, Bindi Irwin holds up the JJJ coasters over the weekend in Los Angeles.
We caught up with the 11-year-old budding actress and chatted about her new movie, Free Willy 4: Escape from Pirate's Cove. Check out what she had to say:
JJJ: Hi Bindi. It's great speaking with you today. Tell us about your character, Kirra.
Bindi Irwin: Thank you! Playing Kirra is a lot of fun because I play someone who is a bit different than who I am. She's quite stubborn and she doesn't take no for an answer. There's one scene where she has to get really loud and mad at the bad guy. She has to hit him and get really angry and scream at him. Afterward, I went back to my trailer and my mom [Terri] said to me, "Bindi, I've never seen you get so mad before." I told her I've never seen me that mad either. So it was quite interesting playing someone who is different from me.
But there's also another way in which we're alike. Kirra was trying to save an orca and in real life, I'm trying to save a place called The Steve Irwin Wildlife Reserve. Right now, it's under threat of being strip-mined so people can go to AustraliaZoo.com and sign a petition to help us with that. It's really cool.
(Click inside for more of JJJ's exclusive interview with Bindi Irwin…)
JJJ: What really appealed to you about this movie?
BI: You know, I love all the Free Willy movies and they're fun. It's not just for kids either; they're action packed and for all ages, really. By watching, you'll learn something. I even learned something when I was filming. I learned more about orcas and how they use echo location and use clicks and whistles to bounce off of objects to find food and navigate through murky water. There were also little fun facts, like how orcas are part of the dolphin family and things like that.
JJJ: How was your chemistry with the cast? Did you like working with Beau Bridges and Siyabulela Ramba?
BI: Everyone was lovely. It was my first time to Africa — my dad had been there before for documentaries — but where we went to it was very beautiful around Cape Town in South Africa. It's funny, actually, because documentaries there are only about three people working it. With this film there were over 100 cast and crew.
There are also very funny scenes. We needed a camera behind the camera (laughs). One scene, we filmed in this beautiful, big boat. And when you look behind the camera, there are just fifty people standing there with mics and writing things down and the camera is rolling…it was fun.
It was amazing working with Beau Bridges. He was incredible and such an amazing teacher. Will Geiger, the director, was also incredible as well. He had his two kids on set so we got to play with them a bit when we weren't filming.
JJJ: What was your favorite scene?
BI: There's one scene in the movie where I'm meant to eat a vanilla ice cream and I was getting so excited about it. The scene was all set up and I go to eat it and I realize that it's mashed potatoes! It was funny and they use mashed potatoes so it doesn't melt everywhere like real ice cream would. I don't think I'll look at mashed potatoes in any other movie again.
================
Free Willy 4: Escape From Pirate's Cove hits stores TODAY! Stay tuned to JJJ for more of Bindi and a very cool exclusive giveaway soon!

Bindi Irwin: Buy "Free Willy 4!"
Like Just Jared Jr. on FB