Sun, 11 April 2010 at 10:15 pm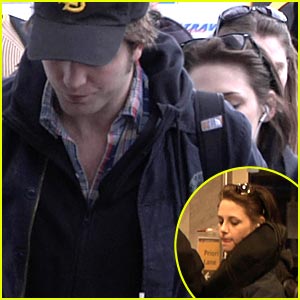 Robert Pattinson leads girlfriend Kristen Stewart into Budapest Airport with their entourage on Sunday night (April 11).
Kristen, 20, who just recently celebrated her birthday, has been visiting Robert, 23, while he's filming his new movie, Bel Ami in Hungary.
Robert has been most recently linked to Heavier Than Heaven, a biopic about late rocker Kurt Cobain. Jonathan Daniel, Courtney Love's manager, tells Spin that Robert's name hasn't even been mentioned. We shall see!
Like Just Jared Jr. on FB