Sun, 25 April 2010 at 6:10 pm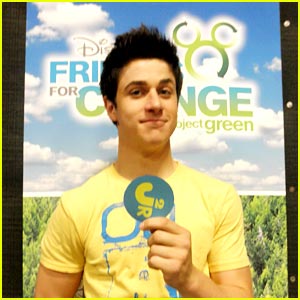 David Henrie twists and turns the JJJ logo at Disney's Friends For Change shoot in Los Angeles on Saturday afternoon (April 24).
JJJ caught up with the 20-year-old actor and chatted about a special upcoming episode of Wizards of Waverly Place — the one he wrote!
David shared with us, "It was an awesome process. I've wanted to write for the longest time…I've always been writing on the side since I've been an actor, like skits and webseries. I got to sit in the writer's room for eight weeks. I would go rehearse and then go sit with the writers; pitching stories and jokes. Then I got my episode called 'Alex's Logo.'"
He continued, "I was the youngest writer in the room so I got to throw my 20-year-old perspective in the script. There's a lot of things that kids will be able to relate to. I got to put some fun things in there like 'the Jerk' type of things. It was an amazing time."
"Alex's Logo" premieres Friday, May 21 @ 8PM ET/PT on Disney Channel.
Stay tuned for more of JJJ's Friends For Change day with Disney!
Like Just Jared Jr. on FB