Sat, 03 March 2012 at 4:30 pm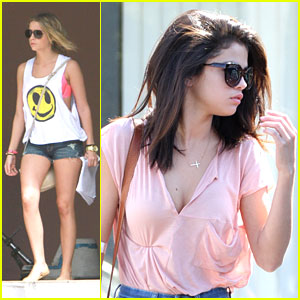 Selena Gomez keeps it cool as she leaves a medical building on Friday afternoon (March 2) in St. Petersburg, Fla.
After getting a bit of blood work done, the 19-year-old actress headed back to the Spring Breakers set to start filming the flick opposite Vanessa Hudgens and Ashley Benson.
Just the night before, Selena ran into a fan at a Walgreens who was picking out a get well card for his girlfriend.
"Then I asked if she could (sign) a get-well card for my girlfriend. She said 'Sure thing,'" Talio Mirisha told the Tampa Bay Times.
He continued, "So, she's at the cash register signing the card, and asking how long (Lexi and I) had been going out. I said a year. She was asking me normal questions, like: 'What's wrong with her?' Selena was really nice, calling me cute and adorable, and just being really sweet. She called me a really great boyfriend. In the card, too, she even writes: 'You have a great boyfriend.' In the card."
Selena even paid for the card! Be sure to read his whole story.

Like Just Jared Jr. on FB