Mon, 23 July 2012 at 7:30 pm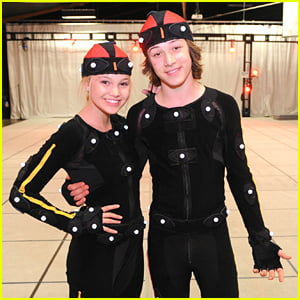 Leo Howard and Olivia Holt suit up for the ultimate video game battle in this exclusive behind-the-scenes pic from Kickin' It.
In the episode "Kim of Kong," When Jack (Howard) lets Kim (Holt) win at sparring, Kim wants a fair rematch. At the arcade, Jack and Kim go head-to-head in an epic video game battle to become the top competitor of 'Immortal Warrior.'
Leo dished to JJJ about filming the sequence, "It took about 30 minutes to put on the suits. I had over 100 little bulbs on me. The bulbs were strategically placed on the body so they could pick up our movements. Each one had to be at a joint. If the bulbs were a millimeter off the image would be distorted."
He added, "They had our avatars up on the screen and we could see our character moving as we were shooting. If I did the wave – it would do the wave back at me!!!"
"Kim of Kong" airs TONIGHT @ 8PM ET/PT on Disney XD.
Like Just Jared Jr. on FB