Wed, 07 November 2012 at 12:30 am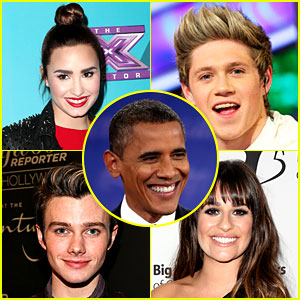 Barack Obama was reelected as the President of the United States on Tuesday (November 6) and celebrities immediately took to Twitter to announce their reactions.
Many celebs offered congratulations to their fellow Obama supporters while some made funny remarks referring to the election season.
Demi Lovato, Niall Horan, Lea Michele, and Chris Colfer and many others who played crucial parts in the Obama campaign let their voices be heard on Twitter. In case you missed it, check out our report of who celebs were expected to vote for today.
Click inside to read election reactions from celebrities…
Demi Lovato: "YAYYY!!! ???? Proud to be an American!!! Woo hoo!!!!… Tonight is a good night for women. Proud to be a WOMAN IN AMERICA!!!"
Niall Horan: "Wey hey! Come on @barackobama ! Champion! What a man! 4 more years!… By the way america! Its good t be back, its been a while,gona be a fun time!"
Lea Michele: "Amazing election party tonight at @MrRPMurphy's house! And so glad we got to celebrate the re-election of OBAMA!!! #GObama"
Dianna Agron: "Four more years, and I am so happy!! Does anyone have a picture of the Empire State Building?? I want to see it in blllluuuueee…."
Chris Colfer: "All ages, genders, ethnicities, and orientations dancing badly TOGETHER on TV! THATS America! Wouldn't see that 50 years ago. #USAProgress"
Naya Rivera: "OBAMA!!!! Can't wait for this speech. A BOSS always wins."
Bella Thorne: "Congratulations Mr. President @BarackObama… Regardless who you wanted to win the Presidency, we learn from each election and must always be gracious to both sides."
Shay Mitchell: "Congratulations Mr. President!!! #GOBAMA you did it again! :)"
Troian Bellisario: "Cheers to another 4 years!!!!! #gobama #44… Thank you-everyone who got out today and voted. I don't care who you voted for-If we agree or not-You made your opinion heard- I respect you"
Logan Henderson: "Congrats @BarackObama @MichelleObama&family!What a pleasure to be in your company this last year! Here's to 4 more years & a bright future!"
Italia Ricci: "Baaaraaaaackkkkk!!!!!!!!! :D #obama #obama #obama"
Shailene Woodley: "EEEEEEEE!!!!!! :)))))"
Kevin McHale: "As @rihanna would say "phuck yo campaign" #Obama2012″
Jamie Chung: "Major goosebumps #Obama2012″
Avan Jogia: "Now everyone needs to work together… Or it doesn't really matter who won."
Ashley Argota: "My very first time voting & it counted. This is amazing. Congratulations, Mr. President. @BarackObama #4moreyears"
Colton Haynes: "Yesssss!!!!!!!!!!!!!! #OBAMA2012 !!!!!!!"
Jillian Clare: "YAYY!! So happy!! I could actually cry! #OBAMA #Obama4moreyears This is a great night !"
Chelsea Hobbs: "Tears in my eyes. Amazing!!!!"
Allen Evangelista: "Obama won! Still, I cant wait to hear Romney's Victory speech! #HeOnlyWroteOne"
Mitchel Musso: "Obama Obama Obama!!!!! I'm so excited AHAHAHAHAHA MY MAN!!!"
Ally Maki: "Andddddd DONE. #OBAMA !!!!!!!!!!!!!!!!!!!!!!!!!!!!!"
Raini Rodriguez: "I voted for the first time today & it counted! That is amazing!! Congratulations President Obama on your re-election! #proudamerican :)"
Jacqueline Emerson: "JUST KILLED MY VOICE BY SCREAMING! #FORWARD #GOBAMA #4MOREYEARS AHH!!"
Ian Somerhalder: "I'm so proud of us as a people.Even people in other countries contributed to this event. A global group hug…Wow. Wow. Wow."
Candice Accola: "Cheers to another four years America!!!"
Danielle Panabaker: "Overwhelmed. So happy. Way to go USA #4moreyears"
Billy Ray Cyrus: "Congratulations Mr President ! Congratulations America …the process worked …and freedom rings."
Like Just Jared Jr. on FB
Photos: Getty
Posted to:
Random