Wed, 03 April 2013 at 10:30 pm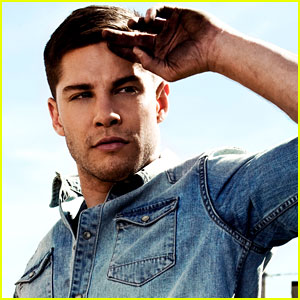 Dean Geyer gets rugged in this brand new photo shoot, taken exclusively for JustJaredJr.com!
The 27-year-old South African-born actor is best known for his role on Glee as Brody, Rachel's (Lea Michele) super secretive NYADA boyfriend who recently got beat up by Finn (Cory Monteith) after he lied to Rachel.
JJJ sat down with Dean to talk about working with Lea and Cory, his background in music, and of course, that super hot accent.
Click inside to read our exclusive interview with Dean…
Dean Geyer – JustJaredJr.com Exclusive Interview
JustJaredJr.com: Hi Dean! So people seemed to love the recent fight scene between Finn and Brody. How was shooting that with Cory? We heard it was one of your favorite scenes to shoot.
Dean Geyer: It was. It was definitely No. 1, I have to say. Since I've got a background in martial arts, it was definitely fun. It was fun to kind of get to put that in the mix. Some of the stunt work, we actually didn't get to do (laughs), which was unfortunate. The whole table smashing scene was done by the stunt guys, but we were allowed to do some of the stunts. Both of us had so much fun. It was really just something different than we've seen on Glee. It was a little bit raw. We had a little bit of a tussle and we could really get into character.
JJJ: So is that the last we're going to see of Brody? Will he fight for Rachel?
DG: I don't know what the writers have in store. They tend to be very last-minute. We get the scripts a week or two before we film them. I actually haven't filmed the last few episodes. I feel like it might be over, but you never really know. If they go-ahead with the next season, I mean, he's still at the college. He has to see Rachel at some point, right?
JJJ: Right. But do you think there's any coming back from what he did to her?
DG: It was definitely terrible. He tried to justify it in his own mind. Finn and Santana are the ones that called him out and I think he realized how bad it was in that moment. But I mean, I think he knew she was doing the same sort of thing.
JJJ: You mostly worked alongside Lea. Can you tell us something about her that maybe we don't know?
DG: Something that you may not know is that she gets really shy in front of a lot of people. We were filming in New York and when there's big groups of people and a lot of fans coming up to her, she is really shy – apart from the Lea that you see on screen and the Lea I see on set, which is this energized, ball of fun. I don't know if she's ever said that before, but I feel like that's something that not a lot of people would know. It's kind of weird if you think about it, for a performer who's done theater and TV, and has been surrounded by that.
JJJ: Brody and Rachel sang Demi Lovato's "Give Your Heart a Break" early on during a karaoke session. What's your go-to karaoke song?
DG: It has to be a big rock song. I feel like something like Bon Jovi's "Livin' on a Prayer" or maybe Bryan Adams' "Summer of 69." Those are fun songs to sing, everybody knows them. The other one, the go-to song I have for my gigs that I enjoy playing, is Justin Timberlake's "Cry Me a River," which I did for my audition. That's a song I do because it's really unexpected.
JJJ: Good choices! We read that you want to get back into writing music. Do you have any plans for that?
DG: For sure. I haven't touched writing in a while. It's something that got put on the back burner since I started acting in the States. It's always something that I'm going to be doing though. I have a couple of friends that have now come into my life and are doing music, and pursuing that as a career. I feel like I'm always going to be that person. If you're a musician, it's never going to be something that you lose. So for me, songwriting is always going to be a way to express myself, as well as the acting. I don't think I'm going to pursue it as a career. I used to, four years ago, that's what I wanted to do. But I think the writing part of things is definitely going to be in my life in the coming years. I feel like I want to write songs and pitch them for other artists. That's a big goal of mine.
JJJ: When did you realize you wanted to pursue acting?
DG: My first acting project was a show called Neighbors in Australia and I was very tentative going into it because I sorta knew it was going to take me away from music. Just because it's such a full-time job. But once I got into the swing of things and I got my American manager, and started auditioning, I realized how much I loved it. But at the same time, it's very similar to music in that you have to put yourself out there and obviously, it's an art. You have to be very creative. But I also realize it's not hard to kind of swap back and forth.
JJJ: Speaking of Australia, you were born in South Africa and grew up in Australia. Do people often mistake your accent for being Australian?
DG: It doesn't really matter because I don't think a lot of people know what a South African accent sounds like (laughs). I'll walk into a meeting or photo shoot or something, and people will be like, "Oh, where are you from? England? Australia?" Those are the first two places they'll land and I'm so used to it now. I don't really want to be correcting people all the time (laughs). But yeah, a lot of people think I'm from Australia because there are so many of us out here. And obviously, I'm dual – I'm South African and Australian. I've been living there for like ten years.
JJJ: Is it easy for you to switch to the American accent?
DG: Yeah, I feel like it's easier for me to switch to the American than it is for me to switch to the Australian. When I was doing a show in Australia, I had to go to an accent coach. And obviously, being surrounded by an accent while you're acting really helps. I've been coming back and forth for about four years to America, and I've lived here for about two and a half years. All my good friends here are American, so I actually haven't had an American coach. But I feel like growing up with American movies and TV kind of sets you up to make it that much easier.
JJJ: What do you like to do for fun when you're not working?
DG: I'm a pretty boring person (laughs). I love to be really active. So anything to do with the gym, whether it be weights or hiking or going to the beach. Anything to get me out of the house is fun for me.
JJJ: And finally, what songs are on rotation for you right now?
DG: I'm a big fan of the new music on the radio, just the Top 40 stuff. I don't really have full albums that I'm listening to. I've always been a big fan of electro and house [music]. Swedish House Mafia. It's songs I can listen to on the radio and I can take it to the gym. It helps me work out as well. Actually, in the last two months, that's been a huge song. Everybody listens to that song. There's another song by Calvin Harris and Florence Welch ["Sweet Nothing"]. Those two songs have been at the top of the list for the past three months.
PHOTO SHOOT CREDITS —–
Producer: Jared Eng (@JaredEng)
Photographer: Justin Campbell (@JustJustinNYC)
Stylist: Maeve Reilly (@StyleMEMaeve)
Hair: Ryan Richman (@RyanRichmanHair)
Makeup: Desirae Cherman (@desiraecherman)
Like Just Jared Jr. on FB