Sat, 06 June 2015 at 12:30 pm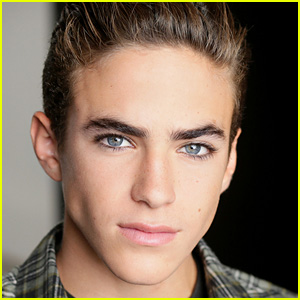 Check out this new interview with the talented Chazz Nittolo!
The 15-year-old actor stars in the upcoming Nick show 100 Things to Do Before High School, which premieres on Saturday, June 6 @ 8PM.
The show follows three best friends as they navigate the highs and lows of middle school, with the help of a bucket list of adventures that help them overcome class cliques, terrifying bullies and clueless teachers.
With real life and teen drama awaiting her after 8th grade graduation, CJ Parker (Isabela Moner) has only a short time left to make the most of her middle school years. Together with her two lifelong best friends Fenwick (Jaheem Toombs) and Crispo (Owen Joyner), she is determined to get the most out of this time, using an ever-expanding list of challenges as a guide. For this group, growing up means trying everything and taking chances while they still can.
JustJaredJr.com: Tell us about your character on the show!
Chazz Nittolo: My character on 100 things to do before high school is CJ Martin's (Isabela Moner) love interest, gorgeous eighth grade boy. He is your typical older crush. He likes a lot different activities that your going find out about on Nickelodeon June 6th at 8:00pm.
JJJ: How did you land the role? What was your audition process like?
CN: My agent gave me call at my birthday dinner a few months ago to ask if I was interested in starting up again and to also share that he had a casting for me. At the time I did not have head shots, so my friend took a picture of me on his iPhone and we sent it in! They wanted to see me, so I went in the next day. The audition was very short and I didn't really know how I did, but two days after that, I received the call with great news!
Click inside to see the rest of our interview with Chazz Nittolo…
JustJaredJr.com Interview – Chazz Nittolo
JJJ: The show highlights the middle school experience leading up to high school. What was your own experience like at that age?
CN: Middle school was great! Of course there are those ups and downs that everyone deals with-bullying, peer pressure, style etc. The producers and director do a great job of demonstrating the challenges of middle school and lighten it up with fun and humor.
JJJ: Do you have a favorite memory from filming?
CN: I have so many amazing memories from filming. One of my favorites is from shooting the episode "Master a Thing Thing".
JJJ: Tell us something about Isabela we may not know!
CN: She is probably one of the most confident people I have ever met. She is truly a performer. Most people notice how talented she is when they watch her.
JJJ: Why should we tune into 100 Things to Do Before High School?
CN: 100 Things to Do Before High School is a show viewers can relate to. It shows the funny obstacles in school that you have to conquer, and all the diverse funny characters you may have to deal with along the way! Everyone in the cast and crew puts in so much effort into making the show great! I cant wait to see the outcome.
JJJ: If you could be any superhero, who would it be?
CN: Spiderman
JJJ: Who would you say inspires you?
CN: My mom. My mom has always been there for me and she inspires me everyday to be the best I can be. She pushes me to grow in acting and to be a great example to my siblings.
JJJ: What's the one thing about Chazz we don't know?
CN: I love giving back to other and the environment. I'm a big surfer so any opportunity to help with keeping our beaches clean and safe, I jump right in to serve. It's very important to me be able to give back as much as possible.
JJJ: And last question – Where will you be watching the premiere of your show?
CN: Earlier in the day I am doing a charity event for St. Jude's hospital at Brooks Brothers. Then I am rushing home to watch the premiere with family and friends. I am looking forward to the entire day! It's going to be a good one!
Like Just Jared Jr. on FB