Thu, 20 August 2015 at 11:30 pm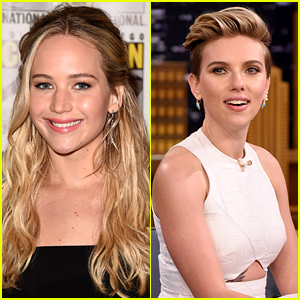 Jennifer Lawrence was just revealed as the highest-paid actress of the past 12 months!
The 25-year-old Oscar winner earned a whopping $52 million ranging from June 2014 to June 2015. Jennifer actually earned $1 million more than last year's top paid actress Sandra Bullock, who is now number 15.
Scarlett Johansson landed in the number two spot with over $35 million in paydays.
The list was revealed on CBS This Morning.
Click inside for the top 18 highest paid actresses list…
1. Jennifer Lawrence: $52,000,000
2. Scarlett Johansson: $35,500,000
3. Melissa McCarthy: $23,000,000
4. Bingbing Fan: $21,000,000
5. Jennifer Aniston: $16,500,000
6. Julia Roberts: $16,000,000
7. Angelina Jolie: $15,000,000
8. Reese Witherspoon: $15,000,000
9. Anne Hathaway: $12,000,000
10. Kristen Stewart: $12,000,000
11. Cameron Diaz: $11,000,000
12. Gwyneth Paltrow: $9,000,000
13. Meryl Streep: $8,000,000
14. Amanda Seyfried: $8,000,000
15. Sandra Bullock: $8,000,000
16. Emma Stone: $6,500,000
17. Mila Kunis: $6,500,000
18. Natalie Portman: $6,000,000
Like Just Jared Jr. on FB