Sun, 06 September 2015 at 2:00 pm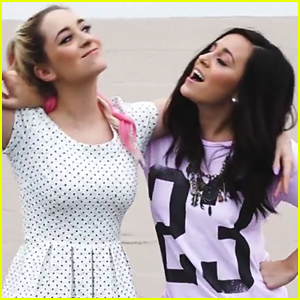 Megan & Liz sing together in this cute new video for Barbie's "Raise Your Voice" campaign.
The 22-year-old twins wrote a cute letter with the video. Check it:
"We have been fans of Barbie and all of her adventures for as long as we can remember! So when [she, sic] transforms into a Rockstar for her new movie, (Barbie in Rock N Royals) we were beyond stoked, because we were all 'We are singers too, Barbie!!!!' :) Music is obviously very important to our every day lives, and to our relationship as sisters, and best friends. SO when we heard 'Raise Our Voices' we fell in love with the message and the overall vibe.
"Our video is us having fun, singing and LOVING life. Hope you enjoy our little rendition! If you wanna know more about how you can get involved and "Raise Your Voice" and just celebrate good music with the rockstar (the one, the only) Barbie, head over to BeSuper.com! ALSO you can get a free download of 'Raise Our Voices' when you visit the site. Tell us how you #BeSuper through music in the comments below y'all! And don't forget to subscribe to Barbie's official YouTube channel for more cool videos and all kinds of fun stuff!"
Check out the video below!

Raise Our Voices – Barbie – by Megan and Liz
Like Just Jared Jr. on FB