Sun, 27 September 2015 at 8:30 pm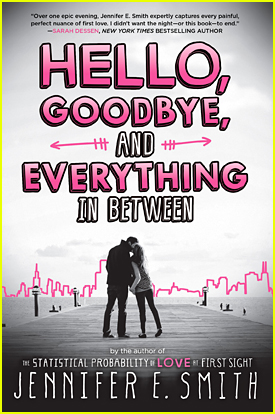 The JJJ Book Club JUST finished our stack of September books — yes, it was that tall and we finally have our top ten reads!
We've got coming-of-age books, New Adult books, fantasy and science fiction — and even some romance tucked in there.
But our top pick is "Hello, Goodbye, and Everything In Between" by Jennifer E. Smith — we just LOVE her books and we can't resist them.
In case you missed them, check out all our picks from August!
Click inside to find out our picks for September!
"Hello, Goodbye & Everything In Between" by Jennifer E. Smith
On the night before they leave for college, Clare and Aidan only have one thing left to do: figure out whether they should stay together or break up. Over the course of twelve hours, they'll retrace the steps of their relationship, trying to find something in their past that might help them decide what their future should be.
The night will lead them to friends and family, familiar landmarks and unexpected places, hard truths and surprising revelations. But as the clock winds down and morning approaches, so does their inevitable goodbye. The question is, will it be goodbye for now or goodbye forever?
"Everything, Everything" by Nicola Yoon
My disease is as rare as it is famous. Basically, I'm allergic to the world. I don't leave my house, have not left my house in seventeen years. The only people I ever see are my mom and my nurse, Carla.
But then one day, a moving truck arrives next door. I look out my window, and I see him. He's tall, lean and wearing all black—black T-shirt, black jeans, black sneakers, and a black knit cap that covers his hair completely. He catches me looking and stares at me. I stare right back. His name is Olly.
Maybe we can't predict the future, but we can predict some things. For example, I am certainly going to fall in love with Olly. It's almost certainly going to be a disaster.
"Mirrored" by Alex Flinn
Beauty is the key to everything. At least that's how it seems to Violet — ugly, bullied and lonely. To be beautiful, in her eyes, is to have power and love. When Kendra, the witch, teaches Violet how to use magic, she may finally get what she wants.
"Nightfall" by Jake Halpern and Peter Kujawinski
On Marin's island, sunrise doesn't come every twenty-four hours—it comes every twenty-eight years. Now the sun is just a sliver of light on the horizon. The weather is turning cold and the shadows are growing long. Because sunset triggers the tide to roll out hundreds of miles, the islanders are frantically preparing to sail south, where they will wait out the long Night.
Marin and her twin brother, Kana, help their anxious parents ready the house for departure. Locks must be taken off doors. Furniture must be arranged. Tables must be set. The rituals are puzzling—bizarre, even—but none of the adults in town will discuss why it has to be done this way.
Just as the ships are about to sail, a teenage boy goes missing—the twins' friend Line. Marin and Kana are the only ones who know the truth about where Line's gone, and the only way to rescue him is by doing it themselves. But Night is falling. Their island is changing. And it may already be too late.
"Sound" by Alexandra Duncan
As a child, Ava's adopted sister Miyole watched her mother take to the stars, piloting her own ship from Earth to space making deliveries. Now a teen herself, Miyole is finally living her dream as a research assistant on her very first space voyage. If she plays her cards right, she could even be given permission to conduct her own research and experiments in her own habitat lab on the flight home.
But when her ship saves a rover that has been viciously attacked by looters and kidnappers, Miyole—along with a rescued rover girl named Cassia—embarks on a mission to rescue Cassia's abducted brother, and that changes the course of Miyole's life forever.
"What We Saw" by Aaron Hartzler
Kate Weston can piece together most of the bash at John Doone's house: shots with Stacey Stallard, Ben Cody taking her keys and getting her home early—the feeling that maybe he's becoming more than just the guy she's known since they were kids.
But when a picture of Stacey passed out over Deacon Mills's shoulder appears online the next morning, Kate suspects she doesn't have all the details. When Stacey levels charges against four of Kate's classmates, the whole town erupts into controversy. Facts that can't be ignored begin to surface, and every answer Kate finds leads back to the same question: Where was Ben when a terrible crime was committed?
"Cut Both Ways" by Carrie Mesrobian
Will Caynes never has been good with girls. At seventeen, he's still waiting for his first kiss. He's certainly not expecting it to happen in a drunken make-out session with his best friend, Angus. But it does and now Will's conflicted—he knows he likes girls, but he didn't exactly hate kissing a guy.
Then Will meets Brandy, a cute and easy-to-talk-to sophomore. He's totally into her too—which proves, for sure, that he's not gay. So why does he keep hooking up with Angus on the sly?
Will knows he can't keep seeing both of them, but besides his new job in a diner, being with Brandy and Angus are the best parts of his whole messed-up life. His divorced parents just complicate everything. His father, after many half-baked business ventures and endless house renovations, has started drinking again. And his mom is no help—unless loading him up with a bunch of stuff he doesn't need plus sticking him with his twin half-sisters counts as parenting. He's been bouncing between both of them for years, and neither one feels like home.
Deciding who to love, who to choose, where to live. Whichever way Will goes, someone will get hurt. Himself, probably the most.
"The Fate of Ten" by Pittacus Lore
For years the Garde have fought the Mogadorians in secret. Now all of that has changed. The invasion has begun. If the Garde can't find a way to stop the Mogs, humanity will suffer the same fate as the Lorien: annihilation.
There is still hope. When the Elders sent the Garde to Earth, they had a plan—one which the Garde are finally starting to understand. In the climax of The Revenge of Seven, a group of the Garde traveled to an ancient pyramid in Mexico known to their people as the Sanctuary. There they awoke a power that had been hidden within our planet for generations. Now this power can save the world . . . or destroy it. It will all depend on who wields it.
"Walk On Earth A Stranger" by Rae Carson
Lee Westfall has a strong, loving family. She has a home she loves and a loyal steed. She has a best friend—who might want to be something more.
She also has a secret. Lee can sense gold in the world around her. Veins deep in the earth. Small nuggets in a stream. Even gold dust caught underneath a fingernail. She has kept her family safe and able to buy provisions, even through the harshest winters. But what would someone do to control a girl with that kind of power? A person might muder for it.
When everything Lee holds dear is ripped away, she flees west to California—where gold has just been discovered. Perhaps this will be the one place a magical girl can be herself. If she survives the journey.
"Blood and Salt" by Kim Liggett
"When you fall in love, you will carve out your heart and throw it into the deepest ocean. You will be all in—blood and salt."
These are the last words Ash Larkin hears before her mother returns to the spiritual commune she escaped long ago. But when Ash follows her to Quivira, Kansas, something sinister and ancient waits among the rustling cornstalks of this village lost to time.
Ash is plagued by memories of her ancestor, Katia, which harken back to the town's history of unrequited love and murder, alchemy and immortality. Charming traditions soon give way to a string of gruesome deaths, and Ash feels drawn to Dane, a forbidden boy with secrets of his own.
As the community prepares for a ceremony five hundred years in the making, Ash must fight not only to save her mother, but herself—and discover the truth about Quivira before it's too late. Before she's all in—blood and salt.
Like Just Jared Jr. on FB