Sat, 07 November 2015 at 6:00 pm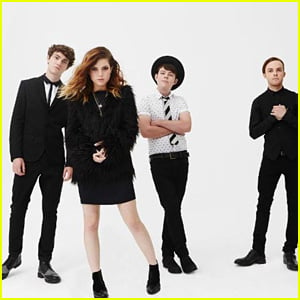 Echosmith just made an important announcement on their Instagram this week and it involves new music!
The band — Sydney, Noah, Jamie and Graham Sierota — announced that they're taking just a little break to work on brand new music. Read some of their message below:
"After almost 3 years of non-stop touring in support of the songs on our album Talking Dreams, we are taking some time to finally rest, recharge and being to write & record our next record…We do not talk likely that most people do not get to experience these kinds of opportunities and we are beyond grateful for every single one of them.
"We wrote & recorded these songs when we were 13, 15, 16 and 19 years old. We prayed people would get our music and hear our message, but to know that millions of people have spent their hard earned money on something we created is crazy, exciting, thrilling and humbling, all at once. Today we're 16, 18, 19, and 22 and have brand new stories to tell. Our oldest brother, Jamie, is about to become a father, Noah is still recovering from a punctured lung, Sydney has recently graduated high school and Graham has doubled his height and discovered how to do high school and travel the world all at once."
Read the rest of Echosmith's message below and start the countdown for new music!
Like Just Jared Jr. on FB