Tue, 10 November 2015 at 11:20 am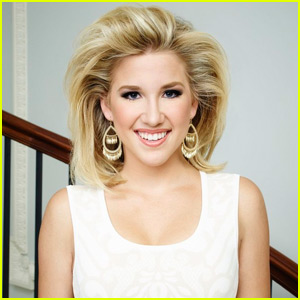 Check out this brand new JJJ interview with Savannah Chrisley!
The 18-year-old Miss Tennessee Teen USA is gearing up for the season four premiere of her family's show Chrisley Knows Best, and gave us the scoop!
In tonight's premiere, Chase and Savannah are ecstatic to embark on a family graduation trip to London, much to the chagrin of their dad Todd, a creature of habit who's never left the country.
Chrisley Knows Best airs TONIGHT, November 10 @ 10/9c on USA Network!
JustJaredJr.com: Congrats on your Miss Tennessee Teen USA crown! What was that moment like?
Savannah Chrisley: When I won I was simply speechless! It was one of the most memorable moments I will ever have. The reason that I say this is because for the first time in my life, I did it on my own. I picked my dress out on my own, I decided to cut my hair on my own, and I prepared on my own without my dad.
JJJ: What can you tease about this new season of the show?
SC: There's A LOT of change! Both Chase and I are going off to college so you know my parents are going crazy!
Click inside to read the rest of our interview with Savannah Chrisley…
JJJ: We hear you're going on vacation to London. What are three words to describe Chrisley family vacations?
SC: LOUD, FUN, and HECTIC!
JJJ: You recently graduated high school and started college. What was the biggest adjustment for you?
SC: I think being away from my family has been one of the hardest things to adjust to. I went from being at home every single night to then being at home every few weeks. Not seeing Grayson and Chloe has probably been the toughest thing for me! It's also been pretty crazy creating my own schedule and my dad not being there to tell me every move to make.
JJJ: What are you studying? What are some of your goals?
SC: I'm currently majoring in entrepreneurial business in hopes of becoming a manager or agent for major recording artists. I am not musically inclined in the slightest! But I do love music and the business side of things is very intriguing!
JJJ: What's the secret for balancing school, family, pageants, etc?
SC: I don't quite think that I have mastered the whole balancing thing yet. Lol! It's been very difficult to stay on top of my school work while focusing on my family, pageants, and career! I go to class Tuesday's and Thursday's so in between these times is when I make everything else work!
JJJ: What do you like to do in your free time for fun?
SC: When I have a little bit of free time I honestly just like to spend it with my friends or come home and see my family. Since Nashville is "The City of Music" there is always a concert for us to go to! So we make the best of the time we get to spend together!
Like Just Jared Jr. on FB