Sun, 10 January 2016 at 1:30 pm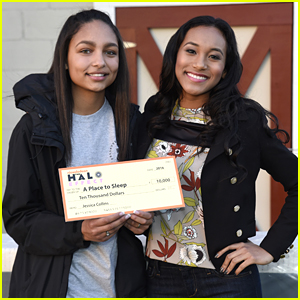 Sydney Park presents a big check to Jessica Collins in this sneak peek from the premiere episode of The HALO Effect.
In the first episode, "A Place to Sleep," 16-year-old Jessica from Shelbyville, Ky., helps disadvantaged families in need of beds and bedding.
Inspired by the film The Blind Side, and the realization that there are kids who don't have a bed, to start her non-profit organization A Place to Sleep when she was 10 years old. With the help of her church, family and the generous contributions of local residents who donate funds, beds and their time, A Place to Sleep has provided more than 750 families with bed frames, mattresses and bedding.
In recognition of her dedicated service, Nickelodeon's The HALO Effect awarded a $10,000 grant to Jessica's organization.
Each week, The HALO Effect will profile a young activist who is making a positive change in his or her community and inspiring others to do the same. Each of the 30-minute episode will focus on a teen taking on issues ranging from poverty, to helping military families, to the environment.
The HALO Effect premieres on Monday, January 18th @ 8PM ET/PT on Nickelodeon!

"The Halo Effect" Sneak Peek
Like Just Jared Jr. on FB