Tue, 19 January 2016 at 11:30 am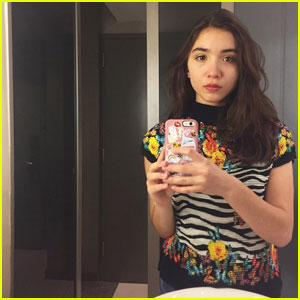 Rowan Blanchard opens up about why she's trading in apologizing for existing in this amazing new essay for Rookie mag.
The 14-year-old Girl Meets World star wrote, "My codependent relationship with self-blame and self-deprecation as a means of self-defense has held me tightly since I can remember. It has felt safer and less terrifying to silence myself to a degree than to actually engage with people, and make them take responsibility for their own actions. I have treated, specifically, male feelings and ego as superior to and more fragile than my own."
She added, "My first memory of rejecting my emotions to improve another person's outlook on me was in the third grade, although I'm sure it happened unconsciously even before that."
Then Rowan dives into some very real examples from her life, and even gives tips on how she's learned to trust herself more.
"Will life be easier if you stop playing pretend? Yes and no," Rowan wrote. "Some things get easier, and so some things get much harder. Then those hard things get easier and new things become harder. It all repeats itself, somehow. But if you listen closely to the tiny voice in your head, the calm one, that is you talking. And if you turn up the volume on it and try to listen, it blocks all the other voices out."
To read Rowan's entire essay, head over to RookieMag.com.
Like Just Jared Jr. on FB