Wed, 20 January 2016 at 11:30 am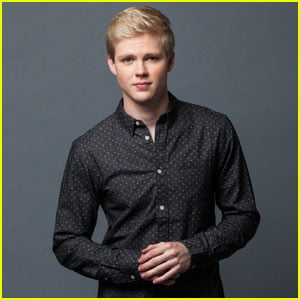 Check out this brand new interview with the super talented Ryan Cargill!
The WITS Academy star chatted with us about the show, how he got his start in acting, and more!
JustJaredJr.com: Tell us about how you got into acting!
Ryan Cargill: I actually started in a community theatre, in Texas, after my mom made me go. Three days in, I was hooked, and was dragging her to all the auditions.
JJJ: What was your audition for WITS Academy like?
RC: Surreal! I went in thinking "all I can do is bring everything I have to it." I wound up watching David Schwimmer on Friends, to get a comedic rhythm and to calm me down. I didn't think I had the part, and was actually looking for a waitering job, the night before I got the role.
Click inside to see the rest of our interview with Ryan Cargill…
JustJaredJr.com Interview – Ryan Cargill
JJJ: What are the biggest differences and similarities between you and Luke?
RC: We're most alike in that, honor means a lot to both of us. It's old fashioned, but I always want to be noble in what I'm doing with my life. We also like to mess with people a lot. Luke enjoys messing with Andi in the show as a way to open her up and I enjoy doing that to other actors if I'm looking for a deeper connection with them. We're different in that, I like to think I'm less preppy than Luke. Hopefully that's true…
JJJ: Who would you say you're closest to on set? Any fun memories you can share?
RC: It was a very tight cast, so I was close to everyone in a different way on set. However, I remember one time when Tyler Perez and I were mountain biking in Florida, (because
we're manly of course) and suddenly, ahead I hear a yell and I'm like, "Dude, you okay?!" And he shouts back, "Yeah, went off a big jump!" Then, not three seconds later I hear a high-pitched scream. And I mean scream. Something you should know about him, is he's deathly afraid of spiders. So I come up behind him and ten feet off the trail is a big spider chilling in it's web. He's freaking out, cause this thing is 10 feet off the trail. I started to push him towards it and he's like, "No dude, stop!"
JJJ: What do you like to do in your free time?
RC: I love to learn and acting is a huge part of that in my day to day. I'm that kid who obsesses over Mark Rylance's presence in Bridge of Spies, or Daniel Day's transformation in the end of There will be Blood. I also love to hike and cliff jump, as well as spend time with my friends and go on an adventure of some sort.
JJJ: What other projects do you have coming up that you can tell us about?
RC: My friend, Mike Coleman and I, wrote, directed, and starred in our own web-series called, Jax & James over the last year. I play James, an introvert, romantic mirrored by his extrovert friend. We get into a lot of crazy, sticky, situations we have to find our way out of. You can check out and keep up with the project on my Instagram @ryan_cargill7!
Like Just Jared Jr. on FB