Wed, 24 February 2016 at 11:30 pm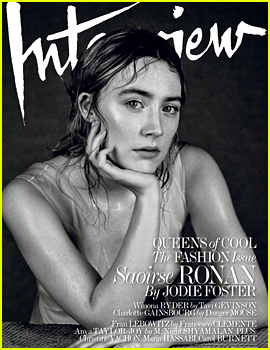 Saoirse Ronan strikes a demure pose on the cover of Interview magazine's March issue.
The 21-year-old Brooklyn actress is currently nominated for an Oscar for Best Actress and chatted with the glossy about life, advice, and what worries her.
On her relationship with her mother: I'm really close to my mom as well, and she came away with me up until I was 19ůMy mom has always been so wonderful and she's always said to me exactly what you said: to always trust your instincts. And whether it's about a script or whether to live in this city or live in that city, if you're questioning it, maybe it's not quite right for you.
Experiencing sadness after she wrapped Atonement: I told my mom that I was still very sad from Atonement and not being a part of that experience anymore. I said to her, "I don't really have that much to say." And she said, "You know, you don't have to tell a story through words, you can always tell a story with just your face and your eyes." I think it was from that moment that my eyes became a huge part of how I would communicate on-screen.
On the pressure she feels from her Oscar nomination: That's the worst thing for me. I'm a huge worrier as well. The thing that I would worry about after being nominated again is, "How do I keep that up?" Not in relation to awards, but keeping up performances.
Saoirse also shares covers with Jodie Foster, Winona Ryder, and Charlotte Gainsbourg.
For more more on Saoirse, Jodie, Winona, and Charlotte, visit Interviewmagazine.com!
Like Just Jared Jr. on FB