Wed, 09 March 2016 at 12:44 pm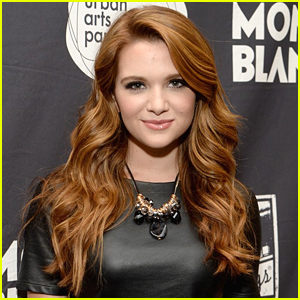 Katie Stevens is fighting back against haters on Instagram after sharing a pic which was meant to show off a gorgeous necklace she received as a gift.
The 23-year-old Faking It star showed off a teardrop necklace on her account and was taken back by the negative comments she got on the picture.
"So. Yesterday I posted a photo, and the purpose of the photo was to showcase a necklace. Underneath the photo were comments, some nice of course, but some of them were not. 'You got too skinny and lost all your boobs!' or 'You have no boobs' or 'You lost too much weight.' Now… mind you I deleted those comments because I don't need anyone bullying these people or going after them, and also I have no room for negativity in my life," she wrote.
Katie continued, "Let's get one thing straight. I have NEVER had boobs, and I'm fine with that. Also, there's this awesome invention called a push-up bra, and sometimes I wear them (so maybe people had the illusion that I had boobs?) Anyways, the comments posted about my boobs aren't even the point though… the point of this post is that body shaming is bullying whether it be you calling someone fat and telling them they need to lose weight, or you telling someone that they're too skinny and need to gain weight. I made a lifestyle choice to exercise and eat healthier food, and yes I lost weight, but I am HEALTHY, I feel beautiful, and I'm comfortable in my own skin. And I don't need anyone shaming me about that."
"I've read comments on other pictures saying "I liked you when you were fatter." Well, I didn't. And I wasn't healthy. And I made the choice to do something about it for me and no one else. Just please think twice before you make comments under people's photos about their bodies, because if we all do that, maybe we can make this social media world a nicer place. Have a great Wednesday!"
See the Instagram in question below:
Like Just Jared Jr. on FB